The creative director of Respawn's unannounced single-player game has left
Mohammad Alavi says his departure is "bittersweet"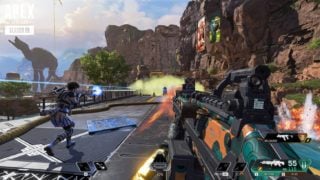 The creative director of Respawn's upcoming single-player action game has left the company.
Mohammad Alavi stated on his LinkedIn page on Tuesday that he was leaving to seek his "next adventure".
"Today was my last day at Respawn Entertainment," Alavi wrote. "It feels surreal.
"I've made games for 18 years ever only at two companies: Infinity Ward and Respawn. 11 of those years have been at Respawn, a company I helped form.
"I've had the fortune of working and learning from the most talented devs and helping create franchises I'm very proud of (Titanfall and Apex Legends).
"Today's bitter sweet: I'm excited about my next adventure, but I'm sad about leaving behind a family. It's the end of an era."
UPDATE 14/01/21: Respawn's unannounced single-player game is reportedly a first-person shooter built around mobility and style.
ORIGINAL STORY CONTINUES: Alavi was senior designer on the Titanfall series and the narrative design director on Apex Legends. Before that he was a designer for Infinity Ward where he designed such iconic Call of Duty missions as 'No Russian' and 'All Ghillied Up'.
Respawn announced in July last year that it was developing a new single-player adventure game, with Alavi as creative director.
Promoting the title online, Alavi said at the time that the studio was in the process of staffing up for the project.
"We're developing a brand new singleplayer adventure from Respawn Entertainment," he wrote. "We're a small, but ambitious team with a history of dreaming big and making splashes."
Respawn had previously confirmed back in April that it was working on an original game project, after a job advert spotted in January stated that the studio was forming a small incubation team to develop "a brand new IP".
The title was "in its early stages" and the successful candidates would "have a direct hand in shaping a new game from the ground up", according to the job adverts at the time.
It has been claimed that EA has warmed to the idea of publishing more single-player games following the success of Star Wars Jedi: Fallen Order. In June, EA said the game had been "played" by over 20 million people across all platforms and subscription services.
And in July, shortly before Respawn's single-player game was officially confirmed, EA announced that its Motive studio is working on a Dead Space remake.