Amazon is reportedly 'nearing a deal' to make a Mass Effect TV series
The trilogy's writer has previously said TV would be a good fit for the game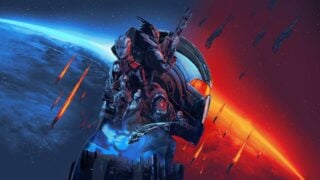 Amazon Studios is reportedly in the process of securing the rights to a new TV series based on Mass Effect.
Deadline reports that the studio, which is responsible for creating original content for Amazon Prime Video, is "nearing a deal" to develop a series based on EA's best-selling sci-fi franchise.
According to the article, the deal is part of a push to create more 'genre' content for the streaming service, following the success of fantasy series The Wheel of Time and the upcoming Lord of the Rings series.
"We can firmly say that Wheel of Time was the most watched series premiere of the year and one of the Top 5 series launches of all time for Prime Video," Amazon Studios head Jennifer Salke told the website.
Mass Effect Legendary Edition - comparison trailer
This isn't the first time Mass Effect has been linked to screen adaptations. Back in 2010, Legendary Pictures announced that it had acquired the rights to produce a Mass Effect movie in a co-production deal with Warner Bros.
Ultimately, however, the movie never materialised, with its screenwriter leaving the project in 2012.
Speaking to Business Insider earlier this year, Mac Walters – who was a writer on the first three Mass Effect games, creative director on Mass Effect: Andromeda and director of Mass Effect: Legendary Edition – said that TV was a better fit for the franchise than movies.
Walters explained that one of the reasons the film deal fell through with Legendary Pictures was the scale of the source material. "It felt like we were always fighting the IP," he said. "What story are we going to tell in 90 to 120 minutes? Are we going to do it justice?"
Instead, he feels that TV is the best fit for the franchise. "If you're going to tell a story that's as fleshed out as Mass Effect, TV is the way to do it," he explained. "There's a natural way it fits well with episodic content."
Actor Henry Cavill teased a potential live-action Mass Effect project earlier this year.
The Superman and The Witcher star posted a blurred image of what appears to be a script page on his Instagram page in February, along with the message: "Secret project? Or just a handful of paper with random words on it…. Guess you'll have to wait and see."
Developer BioWare released the well-received Mass Effect Legendary Edition, a three-game remaster collection, in May 2021. Electronic Arts has said that Legendary Edition sales far exceeded its pre-release forecasts.