Activision boss Bobby Kotick is leaving Coca-Cola's board of directors
The under-fire executive won't be standing for re-election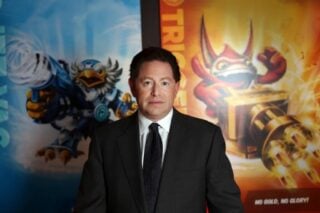 Activision Blizzard CEO Bobby Kotick has announced that he's to step down from Coca-Cola's board of directors.
Kotick, who has been a director of the Coca-Cola Company since 2012, said he won't stand for re-election because he intends to dedicate more of his time to his Activision Blizzard role ahead of the company's planned acquisition by Microsoft.
It was announced in January that the Xbox maker intends to purchase Activision Blizzard in a $68.7 billion deal – the game industry's biggest ever by some distance.
Call of Duty Vanguard & Warzone Season Two Gameplay Trailer
Giving Microsoft exclusive ownership of franchises including Call of Duty, Warcraft, Overwatch, Crash Bandicoot and Guitar Hero, the deal is expected to be completed in the first half of 2023.
"I have decided not to stand for re-election to The Coca-Cola Company board in order to focus my full attention on Activision Blizzard at this pivotal time as we prepare for our merger with Microsoft," Kotick said in a statement.
"It has been a pleasure and a privilege to serve on the Coca-Cola board for the past 10 years."
Kotick has come under fire in recent months for allegedly enabling a toxic workplace culture at Activision Blizzard.
In November, a Wall Street Journal report alleged that Kotick was aware of multiple sexual misconduct allegations at Activision Blizzard.
In a statement at the time, a company spokesperson said Kotick "would not have been informed of every report of misconduct at every Activision Blizzard company, nor would he reasonably be expected to have been updated on all personnel issues".
Kotick was also accused of mistreating several female employees, including leaving a voicemail in 2006 in which he threatened to have an assistant killed.
An Activision spokesperson said of the accusation: "Mr. Kotick quickly apologized 16 years ago for the obviously hyperbolic and inappropriate voice mail, and he deeply regrets the exaggeration and tone in his voicemail to this day."
The Activision Blizzard board also released a statement at the time saying it remained confident in Kotick's leadership.
Kotick is reportedly expected to leave the company once the Microsoft deal closes.
In its recently published annual report, Activision Blizzard said it's having problems attracting new employees and keeping hold of existing ones due to various factors, and that its struggles are likely to be exacerbated by ongoing litigation and bad press.