The cloud-only Kingdom Hearts series on Switch will cost $90
Players will be able to buy streaming versions from next month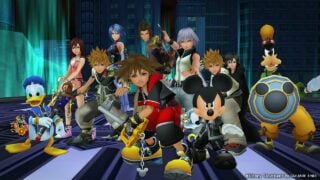 Square Enix has announced the date and price for its upcoming Switch versions of the Kingdom Hearts series.
A tweet from the official Kingdom Hearts Twitter account confirmed that all games will be coming to the Switch on February 10, as cloud versions only.
This means players will need to have a permanent, fast and stable internet connection in order to continuously stream the games to their console.
Despite the games being cloud-based, Square Enix is charging between $39.99 and $49.99 for each of the three releases, with a bundle pack called Integrum Masterpiece costing $89.99.
Kingdom Hearts - 20th anniversary trailer
The four games coming to the Switch on February 10 are:
Kingdom Hearts HD 1.5 + 2.5 ReMIX Cloud Version ($39.99)
Kingdom Hearts HD 2.8 Final Chapter Prologue Cloud Version ($49.99)
Kingdom Hearts III + Re Mind (DLC) Cloud Version ($49.99)
Kingdom Hearts Integrum Masterpiece for Cloud ($89.99, contains all three releases)
Square Enix is currently letting players pre-order the games for 20% off until release, meaning the complete Integrum Masterpiece collection costs $71.99.
Demo versions of each game are also available starting today, so players can see if their own setup provides a stable enough connection for cloud gaming on the Switch.
Although this price is roughly in line with the digital price for the Kingdom Hearts All-In-One Package on the PlayStation 4 (which is currently $99.99), the PS4 version was discounted to $24.99 on four separate occasions last year during various PlayStation Store sales, while the physical version can be found on sites like Amazon for around $40.
Of course, these versions are also actual digital downloads, rather than streaming cloud versions.
Kingdom Hearts III is also currently available on Xbox Game Pass.
Kingdom Hearts series producer Ichiro Hazama claimed in October that he was still "undecided" on whether native ports of the Kingdom Hearts series would come to Switch, as opposed to streaming versions.
"Bringing these titles to Nintendo Switch proved to be quite difficult for various reasons, including the storage capacity of the hardware, but we're excited that we were able to make it happen for the first time ever by utilizing the Cloud service," Hazama said.
It is unclear whether this is in reference to the storage capacity of the system, or the storage capacity of Nintendo Switch game carts.
There has been renewed interest in the Kingdom Hearts series among Switch owners following the inclusion of its protagonist Sora as the final DLC character in Super Smash Bros Ultimate.
The main series has never been released on Nintendo systems, with only handheld spin-offs released on the GBA, DS and 3DS.