Konami's debut NFT auction earned over $162,000
14 NFT Castlevania artworks sold for an average price of around $12,000 on Friday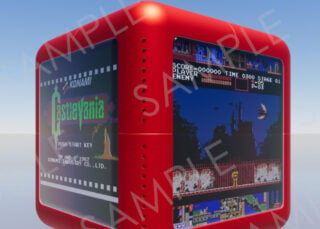 Konami's debut NFT auction earned over $162,000 in sales on Friday.
As promised earlier this month, the Metal Gear and Silent Hill publisher auctioned off 14 pieces of digital artwork based on classic Castlevania games, as part of its "Konami Memorial NFT collection" launched to commemorate the series' 35th anniversary.
NFTs are unique non-interchangeable units of data stored on a blockchain (a form of digital ledger), which effectively allow users to own, buy and sell digital items such as in-game items or artwork.
By midnight PT / 8am GMT Saturday the entire Konami Memorial collection had been sold via marketplace OpenSea, with the NFT artworks selling for an average price of around $12,000.
The NFT with the highest sale price was an artwork based on the Dracula's Castle map from the original Castlevania game, which sold for $26,538.96.
Another NFT in the form of a 3-minute highlights video edited from various Castlevania gameplay, was sold for $17,518. An artwork of popular series entry Circle of the Moon also sold for over $17,000.
As part of the sales, Konami says that those who purchase the NFTs will have their desired nickname listed on its NFT website for ten months.
OpenSea takes 2.5% commission from every transaction on its site, which means that Konami could have earned over $157,000 from the auction.
This figure will likely grow over time, as the company can also set and earn a royalty of up to 10% for each time the NFT is sold on in future.
Konami has called the Casltevania Memorial NFT initiative just the "first" project it has planned with NFTs, and after the huge sums earned from its debut auction it's almost certain to return with further offerings.
Many other game companies have already started selling digital items as NFTs such as Ubisoft, though this has attracted criticism from some due to the format's high carbon footprint and what many perceive to be cynical implementation.
Square Enix was the most recent high-profile games publisher to express its enthusiasm for the technology trends.
In a New Year letter published during the holiday break, president Yosuke Matsuda committed to making blockchain and NFT games a part of its games portfolio.
Matsuda's comments were criticised by some corners of the games industry. However, they appear to have gone down well with the market.
The president's letter triggered an eight percent jump in Square Enix's share price earlier this month – its biggest single-day increase since last August – during the first day of trading in Tokyo since its publication.
In his letter, Matsuda said he believed that blockchain games "hold the potential to enable self-sustaining game growth" by pushing a "play to earn" concept.