God of War director says PS5 SSD 'is just amazing'
Cory Barlog also thinks next generation transition will be relatively smooth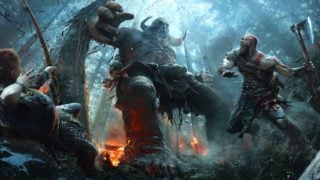 God of War director Cory Barlog singled out PlayStation 5's "amazing" SSD when asked what most excites him about the next-gen console during a recent interview.
Appearing on the latest episode of Animal Talking, SIE Santa Monica Studio's creative director said the developer has previously had to go to "great lengths" to mask loading times in the God of War series – something which won't be necessary on PS5.
"It's pretty exciting actually, there's a lot of stuff that we've been messing around with and seeing, especially for me the SSD is just amazing," he said.
"I'm impatient and I don't like any kind of load times. We've gone to great lengths in this series, like all the way back to the PS2, of trying to hide any kind of loading so that you never really feel like you're having that artificial layer of the game break you out of it – we let the menus do that and all the upgrading and stuff."
PS5's SSD has been positioned as Sony's headline feature for next-gen, with architect Mark Cerny calling the storage drive "a true game changer."
In a PlayStation 5 hardware presentation earlier this year, Cerny claimed the drive – which is said to be able to load 2GB of data in one quarter of a second – could affect not just loading times, but fundamentally change how game developers build their game worlds.
Instead of hiding environments behind scenery or lengthy corridors designed to mask loads, PS5 developers will be able to create far more expansive and detailed environments without fear of memory issues, it's claimed.
Barlog also expects the transition to the upcoming console generation to be a relatively smooth one. Unlike with some past transitions, such as from PS2 to PS3, "it feels like we might not have to go back to square one", he said.
"Like with every generation, it always feels like we master the generation right when there's a new one coming up, and you're like, 'I just finally got this one,' but I think this is going to be a little bit different.
"As the consoles progress it feels like we've gotten a really good foundation of understanding, so transitioning between generations is going to be a little bit less of a massive leap of faith. PS2 to PS3 was this really big like, turn your head differently and kind of look at like, 'oh wow, you can do that,' but it takes a little while to figure it out."
With the critically acclaimed God of War having released in April 2018, Animal Talking host Gary Whitta asked Barlog on at least two occasions what he's currently working on but he refused to take the bait. However, further comments he gave about the transition to PS5 may indicate his next game is still at least a couple of years away.
"I think with the generations coming up it feels like we might not have to go back to square one, we might just have to start wrapping our head around like, 'OK, now we can do all these other things, where are we going to put the effort?' Because at the end of the day it really is the human effort put into all of these games that, even if you have all the tricks figured out in the first year, you still need four of five years to dig in and create something."
Sony released a two-hour documentary detailing the development of God of War in 2019.