PlayStation's State of Play returns next week with a focus on third-party games
PS5 and PS4 titles will be on show during the 20-minute broadcast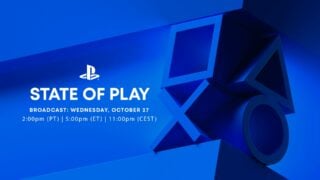 Sony Interactive Entertainment has announced it will stream a new State of Play presentation on Wednesday, October 27.
Kicking off at 2pm PT / 5pm ET / 10pm UK and lasting for about 20 minutes, the broadcast will focus on announcements and updates for third-party games coming to PS5 and PS4.
"The show is looking to be ~20 minutes or so, and will share new looks at previously announced games, plus a few reveals from our partners around the world," Sony said.
PlayStation 5 September Showcase - Opening Sizzle
The platform holder held a 40-minute PlayStation Showcase event in early September, which was headlined by first-party game announcements.
Sony revealed that Insomniac Games' Spider-Man 2 is coming exclusively to PS5 in 2023, and that the studio is making a Wolverine game for the new console.
It also released the first trailer for God of War: Ragnarok and revealed that series veteran Eric Williams is directing the upcoming sequel, rather than God of War 2018 director Cory Barlog.
And the company confirmed that Gran Turismo 7 will be released on March 4, 2022 for PS4 and PS5, among other announcements.
Sony released the official Uncharted movie trailer on Thursday ahead of the film's arrival in cinemas in February 2022.
The film's director Ruben Fleischer (Venom, Zombieland) said he "made the movie for both hardcore fans of the game and those who are not yet familiar with the franchise and believe[s] that both will be equally entertained by this incredibly fun and action-packed film".