Kratos actor claims his injury caused God of War Ragnarok's delay
Christopher Judge praises Sony Santa Monica for letting him rehabilitate after surgery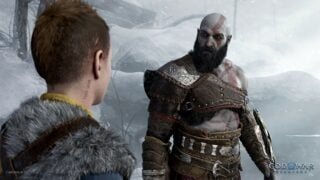 The actor who played Kratos in the 2018 God of War says he's responsible for the delay of its sequel, God of War: Ragnarok.
Christopher Judge tweeted today that the reason Ragnarok was delayed from a 2021 release to next year is because he was injured and unable to play the role of Kratos again.
"I need to be forthcoming. This has been approved by no one," Judge said. "To the beloved fandom, Ragnarok was delayed because of me.
"August 2019, I couldn't walk. Had to have back surgery, both hips replaced, and, knee surgery. They waited for me to rehab.
"No threats, no 'who do you think you are?' Nothing but love and support. And Sony Santa Monica has never said a word about the delay, and what caused it. Studios are assholes, but this company from top to bottom, should give us hope.
"What they did for the crew is way more that I can't talk about, but I've said to all involved, it's the classiest thing that I've ever heard about in this business. Everyone involved in the God of War franchise puts their hearts and souls in every frame you see.
"I want thank everyone that's has allowed me to play, and laugh, and love, and cry, without judgement, but with unconditional support and love, in this thing of all of ours."
God of War creative director Cory Barlog had previously taken responsibility for the delay, following negative reactions to the announcement that it wouldn't be releasing in 2021.
Following the news, Sony Santa Monica developer/writer Alanah Pearce was targeted with vile online abuse, leading Barlog to jump to the defence of his colleague and the wider development team.
In an impassioned series of tweets, Barlog said people unhappy with recent developments should target him and not the "exceptional" staff at the studio.
"You want to be mad at somebody for ANYTHING GOW related – the delay, ps4/5, trolls, subtitle size, Sigrun, whatevs – be angry with me," he wrote. "I made the calls. I did this. Don't bother the team, they are all very good people doing great work."
Explaining the decision to delay the game back in June, developer Sony Santa Monica Studio said: "Since the release of the next God of War teaser last year, we've been humbled by the amount of love our community has shown us.
"We're incredibly grateful to see so many people excited to experience the next chapter of Kratos and Artreus' journey.
"We remain focused on delivering a top-quality game while maintaining the safety and wellbeing of our team, creative partners and families. With this in mind, we've made the decision to shift our release window to 2022."