God of War is ending its Norse story because 'we didn't want to spend 15 years on a trilogy'
Cory Barlog explains why God of War Ragnarök will end the current storyline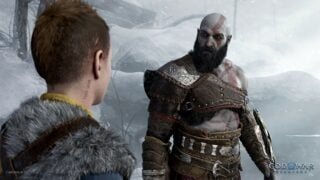 God of War's director says Sony Santa Monica decided to conclude the Norse story with the next entry in the series, God of War Ragnarök, because of the amount of time it would require to make a trilogy of games.
Unveiling the sequel last week, the studio confirmed that Ragnarök will complete the Norse story which began with 2018's series reboot, God of War.
Set for release on PS4 and PS5 in 2022, Ragnarök will be directed by series veteran Eric Williams, rather than God of War 2018 director Cory Barlog.
Speaking to YouTube channel Kaptain Kuba about the decision to wrap up the Norse story in two games, Barlog explained Santa Monica Studio didn't want players to have wait 15 years to experience a trilogy.
"I think one of the most important reasons is the first game took five years, the second game, I don't know how long it's going to take but I'm just going to throw out that it's going to take close to a similar time to do this, right, and then if you think, wow a third one in that same [amount of time], we're talking like a span of close to 15 years of a single story and I feel like that's just too stretched out."
He added: "I feel like we're asking too much, to say the actual completion of that story taking that long just feels too long, and given sort of where the team was at and where Erik was at with what he wanted to do, I was like look, I think we can actually do this in the second story.
"Because most of what we were trying to do from the beginning was to tell something about Kratos and Atreus, that the core of the story's engine is really the relationship between these two characters and the complexity radiates out like ripples in a pond.
"And we could make it an ocean and make those ripples go for thousands of miles, but is that necessary and is that beneficial, or are we feeling like it's just spreading it too far apart, the ripples get too far apart, and you sort of lose the plot a little bit".
Barlog added: "Being able to kind of condense it and feel like, you know, that experience I had when I got the extended edition box set of The Lord of the Rings, and I was able to say wow, I can sit down and have 13.5 hours of this experience playing them one after another back to back, and I just thought that was fantastic, amazing.
"So, to be able to say you could probably start God of War 2018 and then play God of War Ragnarök and feel like you're getting the entirety of the story, and I kind of want that to happen maybe before my kid is in college".
Sony released the first look at God of War Ragnarök gameplay last week. The title is set a few years after the events of the last game, with the freezing winds of Fimbulwinter having come to Midgard.
Players will be able to visit all the Nine Realms in Ragnarök, as opposed to six in the previous game. It will include Vanaheim, Svartalfheim and Asgard, which were unreachable in the 2018 title. Locations from the last game will also have new areas to visit.
Santa Monica Studio's senior community manager Grace Orlady also gave a rundown of the game's plot synopsis on the PlayStation Blog.
"While the last game built an enormous amount of trust and understanding between father and son, there is still a great deal of complexity in their interactions – especially after the revelation of Atreus' Giant heritage and the hidden prophecy only Kratos saw.
"Atreus is desperately curious. Like most young people, he wants to understand who he is more than anything. In this case, he wants to understand who he could be. The mystery of Loki's role in the upcoming conflict is something that Atreus cannot let go of. He wants to keep his family safe, but Atreus also doesn't want to stand by and do nothing while conflict consumes the Nine Realms.
"Kratos, still bearing the knowledge of his past mistakes, wants to spare Atreus the bloody lessons he learned from his conflict with gods. He wants to keep his son safe, above all, and their confrontation with Baldur has vindicated the belief that only tragedy will come from further entanglements with the Aesir.
"Together, Kratos and Atreus will have to make a choice about which path they will take. Whatever they choose will define the fate of all those living in the Nine Realms as Ragnarök approaches."