Overwatch's McCree will officially be renamed 'Cassidy' following Blizzard fallout
McCree was named after a designer who left following this summer's discrimination storm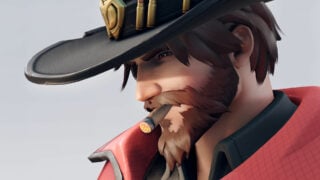 Overwatch character McCree will officially be renamed 'Cole Cassidy' on October 26, Blizzard has announced.
"The first thing a renegade loses is their name, and this one gave up his long ago," reads a post on the official Overwatch Twitter page. "Running from his past meant running from himself, and each passing year only widened the divide between who he had been and what he had become."
The name change has been implemented as a repercussion of the ongoing harassment and discrimination storm at Activision Blizzard.
McCree, whose full name was Jesse McCree, is named after the real-life Jesse McCree, who was the lead designer of Diablo 4.
However, McCree – along with Diablo 4 game director Luis Barriga and World of Warcraft senior designer Jonathan LeCraft – left Blizzard this summer following a lawsuit filed by the California Department of Fair Employment and Housing (DFEH), which accuses Activision Blizzard of failing to properly address reports of harassment and discrimination.
As a result of this, the McCree character's name will now be changed, according to an announcement made in August on the official Overwatch Twitter account.
"We built the Overwatch universe around the idea that inclusivity, equity, and hope are the building blocks of a better future," the statement read. "They are central to the game and to the Overwatch team.
"As we continue to discuss how we best live up to our values and to demonstrate our commitment to creating a game world that reflects them, we believe it's necessary to change the name of the hero currently known as McCree to something that better represents what Overwatch stands for.
"We realise that any change to such a well-loved and central hero in the game's fiction will take time to roll out correctly, and we'll share updates as this work progresses."
Blizzard is planning to launch a new narrative arc that will feature McCree in a key role, it said.
"Going forward, in-game characters will no longer be named after real employees and we will be more thoughtful and discerning about adding real world references in future Overwatch content," the statement concluded.