Activision Blizzard CEO says it's cooperating with investigations, despite claims to the contrary
Bobby Kotick reiterates that the company is committed to being "one of the best, most inclusive places to work"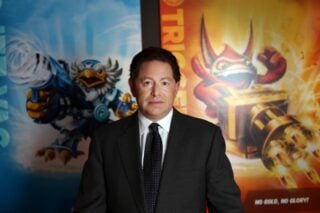 Activision Blizzard CEO Bobby Kotick has claimed again that the company is working with regulators to address workplace complaints, despite claims that it's doing the opposite.
In a new press release that also states how the company has "an extraordinary track record of delivering superior shareholder returns for over 30 years", Kotick claims that harassment and discrimination is not welcome.
"We are deeply committed to making Activision Blizzard one of the best, most inclusive places to work anywhere," Kotick says. "There is absolutely no place anywhere in our Company for discrimination, harassment, or unequal treatment of any kind.
"While we continue to work in good faith with regulators to address and resolve past workplace issues, we also continue to move ahead with our own initiatives to ensure that we are the very best place to work. We remain committed to addressing all workplace issues in a forthright and prompt manner."
The statement also claims: "The Company continues to productively engage with regulators, including the U.S. Equal Employment Opportunity Commission (EEOC), the National Labor Relations Board (NLRB), and the California Department of Fair Employment and Housing (DFEH) with the goal of improving its workplace policies and procedures and ensuring compliance."
Kotick's statement appears to be at odds with the DFEH's ongoing harassment and discrimination lawsuit, which was updated last month to add allegations that the company had shredded documents relating to the case and was now interfering with the department's mandate to investigate the accusations.
The updated complaint also accused Activision Blizzard of taking "adverse actions aimed at curtailing employee rights in this government enforcement action".
It claimed that Activision Blizzard now requires its employees to agree to a waiver of rights, which includes the following conditions:
Employees are requires to "release[s] (i.e. give up) all known and unknown claims that I presently have against the Company… (including [sexual harassment and other claims]"
Employees have to agree to non-disclosure terms that say they have never and will never disclose the terms or existence of any settlement payments
Employees have to agree to non-disparagement terms that they can't publicly criticise Activision Blizzard or any of its "policies, practices [or] standards of business conduct"
Employees have to notify Activision Blizzard before they talk to the DFEH or another government agency, and have to "permit the Company to take all steps it deems to be appropriate to prevent or limit the required disclosure"
Employees have to jointly request, along with Activision Blizzard, that some disclosures should be filed 'under seal' (not on the public record) in legal proceedings
This claim was reinforced last week when a number of Activision Blizzard employees teamed up with a media labour union to accuse the company of 'union busting' and worker intimidation.
The Communications Workers of America filed a complaint with the NLRB, alleging that Activision has violated federal labour law by coercing its employees into keeping quiet about ongoing investigations, including the recent sexual harassment and discrimination lawsuit.
Kotick's statement also comes just one day after it was reported that he has been subpoenaed by the US Securities and Exchange Commission (SEC) as part of its own investigation into Activision Blizzard related to the company's handling of sexual misconduct and discrimination allegations.
The DFEH first filed its lawsuit against Activision Blizzard in July, because of its reported failure to handle sexual harassment and discrimination against female employees.
The suit says the DFEH "found evidence" that the company "discriminated against female employees in terms and conditions of employment, including compensation, assignment, promotion, termination, constructive discharge and retaliation," and that "female employees were subject to sexual harassment".
The lawsuit, and Activision Blizzard's subsequent response, led to a staff walkout accompanied by an open letter signed by thousands of current and former employees.
In early August it was announced that Blizzard president J. Allen Brack – one of the few people actually named in the lawsuit and accused of failing to take appropriate action – would be leaving the company "to pursue new opportunities", with Jennifer Oneal and Mike Ybarra replacing him as the new co-leads of Blizzard.
Kotick then claimed during an earnings call that the company will "set the example" on how to handle sexual harassment and discrimination in the games industry.
However, a week later SOC Investment Group, which owns shares in Activision Blizzard, sent a letter to the company's lead independent director stating that CEO Bobby Kotick's response to the lawsuit and its subsequent employee backlash does "not go nearly far enough" to address the issues involved.