Activision Blizzard employees have filed a complaint accusing the company of worker intimidation
Call of Duty publisher accused of coercing its employees into keeping quiet over investigations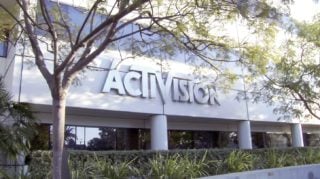 A number of Activision Blizzard employees have teamed up with a media labour union to accuse the company of 'union busting' and worker intimidation.
The Communications Workers of America has filed a complaint with the US National Labor Relations Board, alleging that Activision has violated federal labour law by coercing its employees into keeping quiet about ongoing investigations, including the recent sexual harassment and discrimination lawsuit.
The complaint states that Activision Blizzard "has repeatedly engaged in unlawful conduct by threatening employees in the exercise of the rights guaranteed by Section 7 [of the National Labor Relations Act]".
It also alleges that Activision Blizzard has:
"threatened employees that they cannot talk about or communicate about wages, hours and working conditions"
"told employees they cannot communicate with or discuss ongoing investigations of wages, hours and working conditions"
"maintained an overly broad social media policy"
"enforced the social media policy against employees who have engaged in protected concerted activity"
"threatened or disciplined employees on account of protected concerted activity"
"engaged in surveillance of employees engaged in protected concerted activity"
"engaged in interrogation of employees about protected concerted activity"
('Protected concerted activity' includes legal employee retaliation and activism, such as the walkout staged by Activision Blizzard employees in July.)
Last month California's Department of Fair Employment and Housing (DFEH) updated its harassment and discrimination lawsuit against Activision Blizzard, alleging that the company had shredded documents relating to the case and was now interfering with the department's mandate to investigate the accusations.
The updated complaint also accused Activision Blizzard of taking "adverse actions aimed at curtailing employee rights in this government enforcement action" by requiring its employees to agree to a waiver of rights, and trying to "obtain repressive, if not punitive, secret settlements of sexual harassment claims, non-disclosure agreements, and non-disparagement agreements with severe penalties against employees".
It claimed that Activision Blizzard now requires its employees to agree to a waiver of rights, which includes the following conditions:
Employees are requires to "release[s] (i.e. give up) all known and unknown claims that I presently have against the Company… (including [sexual harassment and other claims]"
Employees have to agree to non-disclosure terms that say they have never and will never disclose the terms or existence of any settlement payments
Employees have to agree to non-disparagement terms that they can't publicly criticise Activision Blizzard or any of its "policies, practices [or] standards of business conduct"
Employees have to notify Activision Blizzard before they talk to the DFEH or another government agency, and have to "permit the Company to take all steps it deems to be appropriate to prevent or limit the required disclosure"
Employees have to jointly request, along with Activision Blizzard, that some disclosures should be filed 'under seal' (not on the public record) in legal proceedings
The DFEH first filed its lawsuit against Activision Blizzard last month, because of its reported failure to handle sexual harassment and discrimination against female employees.
The suit says the DFEH "found evidence" that the company "discriminated against female employees in terms and conditions of employment, including compensation, assignment, promotion, termination, constructive discharge and retaliation," and that "female employees were subject to sexual harassment".
The lawsuit, and Activision Blizzard's subsequent response, led to a staff walkout accompanied by an open letter signed by thousands of current and former employees.
In early August it was announced that Blizzard president J. Allen Brack – one of the few people actually named in the lawsuit and accused of failing to take appropriate action – would be leaving the company "to pursue new opportunities", with Jennifer Oneal and Mike Ybarra replacing him as the new co-leads of Blizzard.
Activision Blizzard CEO Bobby Kotick then claimed during an earnings call that the company will "set the example" on how to handle sexual harassment and discrimination in the games industry.
However, a week later SOC Investment Group, which owns shares in Activision Blizzard, sent a letter to the company's lead independent director stating that CEO Bobby Kotick's response to the lawsuit and its subsequent employee backlash does "not go nearly far enough" to address the issues involved.