Mario Strikers: Battle League demo announced for Nintendo Switch Online
Play through the tutorial now ahead of multiplayer sessions next week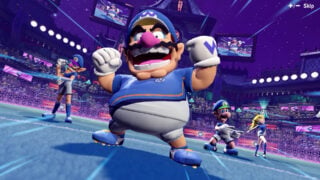 A Mario Strikers: Battle League demo has been announced for Nintendo Switch Online.
The Mario Strikers: Battle League 'First Kick' demo is available to download now, with players initially able to sample a tutorial.
They will then be able to access online multiplayer sessions next week, with six time slots available to play Quick Battle online games with friends or other players from June 3-5 (see US and UK times).
Mario Strikers: Battle League video preview
Users will be able to form a team of up to four players from two Switch systems and a maximum of two players per console.
Set for release on June 10, Battle League is the third entry in the Mario Strikers series, following Mario Smash Football (aka Super Mario Strikers) on GameCube and Mario Strikers Charged on Wii.
Like its predecessors, Battle League focuses on 5v5 arcade-style football action, with no fouls and the ability to use items.
VGC recently got the chance to play a few local matches and you can check our hands-on impressions in a Mario Strikers: Battle League preview published today.
"Mechanically, from what we've played for far, we're not only impressed by how well the game plays from a football perspective but how instantly enjoyable it is for football sim fans and casual Mario fans alike," it reads.
"Throw in a huge amount of Mario charm and what you're left with could be the plumber's best sports title in years."