Here's over 4 minutes of new Mario Strikers: Battle League gameplay
The Nintendo Switch instalment is out in June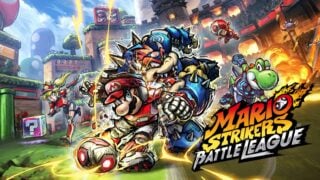 Nintendo has published over four minutes of new Mario Strikers: Battle League footage via a Japanese overview trailer.
When it releases on June 10, the game will be the third in the Mario Strikers series, following Mario Smash Football (aka Super Mario Strikers) on the GameCube and Mario Strikers Charged on the Wii.
Like its predecessors, Battle League will focus on 5v5 arcade-style football action, with no fouls and the ability to use items.
Mario Strikers: Battle League gameplay trailer
Battle League will support local multiplayer for up to eight players (four on each side). The game will also include online play, with up to 20 players able to join one club in an attempt to be the best in the world.
Players will now be able to collect equipment, which will not only change their character's appearance, but also change their stats.