'We're creating a Sonic cinematic universe', says movie producer
A third Sonic film has been confirmed and it's claimed a Tails solo movie is in development too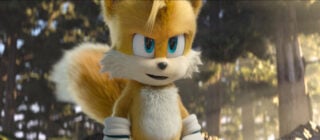 One of the producers of the Sonic the Hedgehog films has said the plan is to create "a Sonic cinematic universe".
Toby Ascher, who was a producer on 2020's Sonic film and the upcoming sequel, commented on the plan in production notes released to coincide with the lifting of today's Sonic 2 review embargo.
"We're creating a Sonic cinematic universe, so we knew we were going to add characters, like Tails and Knuckles; new to the films but beloved by gamers all over the world," he said.
Sonic the Hedgehog 2 review
Paramount Pictures and Sega revealed in February that a third Sonic film and a live-action TV series had entered production.
The TV series will feature Knuckles, voiced by Idris Elba, who also appears in Sonic the Hedgehog 2. It will launch next year on steaming service Paramount+.
While unconfirmed, movie site Giant Freakin Robot recently claimed that a Tails solo movie is in development.
VGC's Sonic the Hedgehog 2 movie review called it a much better film than the original and said there's a pleasant surprise to be found in the chemistry between its new characters.
"Idris Elba's performance as the steely Knuckles, which has him channelling the deadpan humour of Guardian of the Galaxy's Drax, offers the perfect contrast to Sonic's energetic snark. His backstory also provides a pleasing footing for his connection to the blue mascot, previously not revealed in the games.
"Meanwhile, Tails provides the brains of the trio, with his gadgets and smarts threading together much of the movie's action sequences. In Sonic 2's timeline Tails and Sonic have never met before, and there are some genuinely sweet moments where viewers get to watch the pair's friendship develop on screen."