Hands-on: Kirby and the Forgotten Land is the perfect follow-up to Elden Ring
Kirby stretches himself – but maybe not your platforming abilities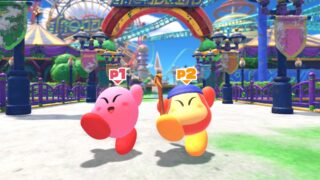 Can it be a coincidence that Kirby arrives so soon after Elden Ring? This is everything the Miyazaki masterpiece isn't: welcoming, bright, frivolous and frothy – and the perfect unicorn chaser after another session of being ripped a new one by one of From's fleshy monstrosities.
Actually, a love of body horror is one thing the two games *do* have in common. Kirby's big new trick for Forgotten Land is stretching himself over everyday objects to take possession of them, akin to a candyfloss condom. Surely, you think, extending that tiny body over a car or traffic cone will cause irreparable damage? Wouldn't he just be left as a baggy sack of elongated skin?
Thankfully, Kirbs always pings back into shape, letting you harness object-fuelled powers that handle like blockbuster versions of the abilities he inhales from common enemies. A car lets you charge over ramps and shattered cracked rocks. Expand around a staircase and you not only can move it to create new routes for regular Kirby, but can slam the thing over to squash goons. The best is a vending machine, with Kirby shooting out fizzy drinks like a highly caffeinated Rambo.
It leaves you wanting to see what the game cooks up next, though, in this early slice of the game, not all objects are made equal. Possessing a water tower cover to waggle off the lid, or controlling a wall of lockers just to tip them over and reveal a hidden door feels a bit uninspiring after hooning the Kirbmobile around narrow clifftops. But even in these undercooked forms, there's a flash of comic joy in seeing the little guy's gurning face plastered across incongruous industrial design.
Kirby and the Forgotten Land – Overview trailer
That he's merging with real world items is due to a magic portal that pulls him from his usual candyland home to the Forgotten Land, a faintly post-apocalyptic take on the sunny tourist traps you might expect to find on Isle Delfino.
When this was first announced several wags anointed it Kirby: The Last of Us Edition, and as you explore a shopping centre reclaimed by nature there's some truth in that. You don't get to shank a Poppy Bros. with a homemade shiv, but it's neat to see HAL's designers tinker with a 3D space for once.
On that note, the overgrown towns and industrial ruins mostly host gentle platforming and simple action – enemy health is low and Kirby's attacks are big. But the 2D Kirby games' eye for secrets and ability-driven puzzles benefit from the added dimension.
Levels are riddled with hidden Waddle Dees, challenge rooms and Achievement-like criteria that reward you for anything from completing a driving section without falling off a cliff to lighting lanterns using a fiery ability. Many hinge on bringing the right Kirby ability to the right place and promises plenty for completionists.
On the subject of abilities, outside of the showstopping 'mouthful' transformations are the usual copy powers you inhale from your attackers. Fireballs, bombs and swords could feel rusty after 30 years of recycling, but the jump to 3D helps cast them in a new light.
Gliding through dystopia with ice Kirby brings to mind Mario Galaxy's figure skating frost power, for example, while a level based around bowling bombs down ramps shows a team pushing familiar moves in new directions.
The latter is one of many Treasure Road stages, which are time trials built around one power that often hinge on mastering hidden intricacies of Kirby's skills. One may see cutter Kirby (read: boomerang) swiping treasure from distant platforms, while another has you lighting fuses as you race against the clock to cannon your way to an exit.
If Forgotten Land bears its teeth anywhere it's here, with reasonably stiff time goals to earn bonus currency. Currency buys goodies in Waddle Dee Town, a social hub that expands as you save its residents from the levels. It's here you can upgrade copy abilities, unlocking wilder variants that turn Kirby from nigh-on invincible to straight-up godlike.
Again, difficulty isn't the order of the day here: this has always been a series about wild, arcade escalation; the joy of chewing through legions of candy-coloured monsters with giddy abandon. Bigger powers are just bigger pats on the back. In this sense, Kirby is as it ever was, albeit with grander environments to unleash that manic, frictionless fun. The question that hangs over it is how it might evolve or crescendo over the course of the game.
HAL's two 3DS entries, Triple Deluxe and Planet Robotron, both ended with the kind of galaxy-scale madness you would expect from a Platinum game. They have built a good reputation for ending big, and we're excited to see just what loopy things Kirby will engulf on his journey there.
But there's also potential for a more nuanced platform adventure, too. The dual transformations of copy abilities and mouthful objects actually bring to mind Mario Odyssey's hat possessions. There, the playable enemies were intricate toys in their own right, with weird mechanical twists and levels that exploited them.
Forgotten Land's mouthfuls, by comparison, seem more hemmed in and prescribed in these early stages – surprising to discover, but discarded just as you get to grips with them.
There's a case to be made that Kirby has always been the ultimate beginner's platformer and perhaps a 'Mario Odyssey Jr' is a valuable pitch. From a purely selfish point of view I'd love to see Forgotten Land take its colour, imagination and visual polish (it's a rainbow workout for the OLED Switch) and stretch its ideas as much as it stretches its hero.
Of course, after another Elden Ring sesh I'll probably be straight back in its adorable embrace. And on this front, it is already an unqualified success.