Nintendo says Switch Sports is off to an 'extremely strong start'
Furukawa believes the game has been mainly purchased by fans of Wii Sports in their 20s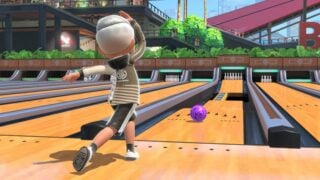 Nintendo has claimed that Nintendo Switch Sports has "got off to an extremely strong start in all regions" since its release last month.
Speaking during an investor Q&A session this week, Nintendo President Shuntaro Furukawa said he believed the title had the potential to broaden Switch's audience as "it is accessible to people who don't normally play games."
Furukawa went on to say that while in Japan the game is popular with people of all ages, in the North American and European markets the game is mainly being purchased by "customers in their mid-20s who used to play Wii Sports and Wii Sports Resort."
Nintendo Switch Sports review in progress | VGC
The exec also cited the online features as a big selling point and said that he believes this will also be the case with the upcoming Splatoon 3.
"In addition to Nintendo Switch Sports, we are also planning to launch Splatoon 3 in the current fiscal year, both of which we believe will be fun to play online. We intend to promote these titles for a long time throughout the year and convey the appeal of playing online to new customers who are buying new hardware."
Released in April, Switch Sports wasn't included in Nintendo's software reporting, which cover until March 2022 and saw the company report its "highest annual software sales ever".
39 titles sold over 1 million copies with the Pokemon franchise alone accounting for almost 35 million sales. 
In VGC's review of Nintendo Switch Sports we said: "As a local game, Switch Sports may keep 'casual' players happy in the same way Wii Sports tennis and bowling did, but anyone looking for any degree of variety in terms of game modes, rules or unlockables will find it sorely lacking."
"Take it online, however, and suddenly what felt like a disappointingly empty experience becomes a thriving community of players, all waiting to give you a different challenge each time, with those outfits acting as an incentive to keep playing – something that's absent offline."