Switch Sports is No 1 in the UK, but it's hard to tell how its predecessors compare
The gaming landscape is different to when Wii Sports Resort was released in 2009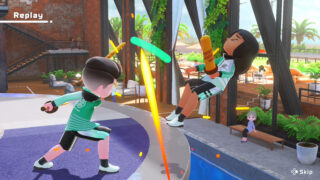 Nintendo Switch Sports has debuted at the top of the UK games chart.
As GamesIndustry.biz reports, Nintendo's latest sports compilation was "comfortably" number one in the UK boxed charts, according to GfK data.
However, it's hard to tell at a glance how well it's performed compared to previous games in the series, because GfK data only counts physical sales.
GamesIndustry.biz states that in terms of physical sales, Switch Sports sold less than half of what Wii Sports (which was bundled with Wii consoles) and Wii Sports Resort each sold in their launch week.
Nintendo Switch Sports - VGC review in process
Both Wii titles were physical-only, however, and as it's as yet unclear how many digital copies of the game were sold on the Nintendo eShop, it's still not known how well Switch Sports performed by comparison.
The digital version is also cheaper in the UK, priced at £30.99 (compared to £39.99 for the physical version, which comes with a leg strap).
What is known is that it's performed significantly better than Wii Sports Club on Wii U, which was an HD remake of the original Wii Sports. This failed to even reach the UK top 40 and only reached number 13 in the Wii U charts.
GamesIndustry.biz also points out that Switch Sports' first week sales are double those of Mario Party Superstars, eight times those of Just Dance 2022 and six times those of Ring Fit Adventure.
As it notes, however, all of these games had modest opening weeks but went on to sell in large numbers.
Switch Sports' arrival means Lego Star Wars: The Skywalker Saga is down to second place, after three weeks on top.
VGC's Switch Sports review in-progress said of the game's offline portion (online was unavailable at the time of review): "At this stage, Switch Sports feels like an unambitious re-tread of a 16-year-old game with very little in the way of options. All eyes are now on the online modes when they go up, to see if they breathe new life into it."