Hideo Kojima seemingly responds to Death Stranding 2 report with cryptic tweet
Designer tells Norman Reedus to 'go to your private room' after the actor's sequel claim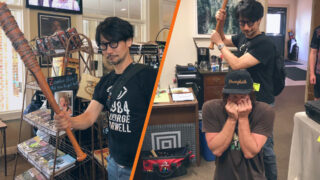 Game designer Hideo Kojima has seemingly responded to claims he's working on Death Stranding 2 with a cryptic tweet.
On Friday, actor Norman Reedus – the star of the original Death Stranding game – claimed that he'd "just started the second one" when discussing the Kojima Productions game with digital publication Leo Edit.
Officially, Kojima Productions has not said what it's next video game project will be.
Death Stranding Director's Cut Final Trailer
Now, Kojima has potentially acknowledged the report with a cryptic tweet posted on Saturday. The post contains several images of Kojima and Reedus together, including one in which the designer is pretending to stage a mock execution of the actor.
"Go to your private room, my friend," Kojima wrote, referencing the private room players are able to visit in the Death Stranding game.
Sony published Death Stranding for PS4 in November 2019 and 505 Games released it for PC in July 2020. The Director's Cut hit PS5 last year and was released for PC in early 2022.
In March 2020, Reedus revealed he was "in talks" to work on another project with Kojima, and last August he said he believed Death Stranding 2 was going to happen as discussions had begun about a sequel.
Previously, Reedus was originally in line to work on a new entry in the Silent Hill franchise directed by Kojima and del Toro, but the project was cancelled by publisher Konami following the release of a playable teaser called P.T. and a falling out with the video games designer.
Last November Kojima Productions announced it had established a TV and film studio based in Los Angeles, and according to Kojima its work will begin in earnest this year.