Norman Reedus claims Death Stranding 2 is in early development
"We just started the second one," says the actor who plays Sam Porter Bridges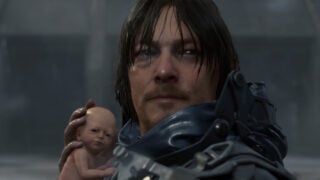 Actor Norman Reedus has seemingly confirmed that Death Stranding 2 is in development.
While the sequel has yet to be officially announced, Reedus told digital publication Leo Edit that work has just kicked off on a follow-up to Kojima Productions' PlayStation and PC game.
"We just started the second one," said Reedus, who played protagonist Sam Porter Bridges in the original.
Death Stranding Director's Cut Final Trailer
Asked how he got involved with the game, Reedus responded: "Guillermo Del Toro, who gave me my first movie, called me up and said, 'Hey, there's a guy named Hideo Kojima, he's gonna call you, just say yes.' And I go, 'What do you mean just say yes?' He goes, 'Stop being an asshole, just say yes.'
"Then I was in San Diego and Hideo came with a big group of people, he's from Tokyo, and he showed me what he was working on a game called Silent Hill. I was blown away by what he was showing me, and I was like, 'Yes, let's do this.' It's not Ms. Pacman; it's so realistic, it's so futuristic, it's so complicated and beautiful, and I was completely blown away."
Reedus was originally in line to work on a new entry in the Silent Hill franchise directed by Kojima and del Toro, but the project was cancelled by publisher Konami following the release of a playable teaser called P.T. and a falling out with the video games designer.
The Metal Gear Solid creator subsequently left Konami and the publisher disbanded Kojima Productions, but Kojima later reformed the studio as an independent company and began work on Death Stranding.
"It took me maybe two or three years to finish all the mocap sessions and everything," Reedus told Leo Edit. "It takes a lot of work. And then the game came out, and it just won all these awards, and it was a huge thing, so we just started part two of that."
Sony published Death Stranding for PS4 in November 2019 and 505 Games released it for PC in July 2020. The Director's Cut hit PS5 last year and was released for PC in early 2022.
In March 2020, Reedus revealed he was "in talks" to work on another project with Kojima, and last August he said he believed Death Stranding 2 was going to happen as discussions had begun about a sequel.