Guardians of the Galaxy devs say it's 'finding its audience' after a slow start
"What I love right now is that people, especially with Game Pass, are playing it"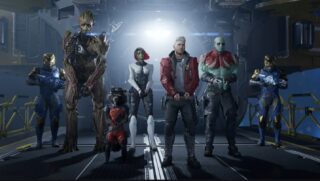 Guardians of the Galaxy developers have said the game is now "finding its audience" following a slow start.
Developed by Eidos Montreal, the single-player action-adventure game was released in October 2021 for PC, PlayStation and Xbox consoles.
Despite receiving highly positive reviews, it "undershot" publisher Square Enix's sales expectations at launch, according to president Yosuke Matsuda.
Guardians of the Galaxy - trailer
However, he also said in February that sales initiatives kicked off in late 2021 had resulted in growth, and the title has since attracted many more players after joining Xbox Game Pass in March, according to Eidos Montreal.
Senior narrative director Mary DeMarle told Eurogamer: "For me, it's all about creating the game. What I love right now is that people, especially with Game Pass, are playing it and they're sharing the experience.
"We make games to touch people, we make games to hit an audience. And it's great that it's finding its audience, and it's great that it keeps going forward."
Guardians of the Galaxy senior creative director Jean-Francois Dugas also told the site: "It's like anything. We always want to sell trillions but it's not always necessarily as easy as that."
He added: "But is it a great ride? And is it something this year or last year that you played that is unlike everything else? And is it worth spending your time on? I honestly think it is, from a game standpoint.
"I have no regrets. We did everything we could but that's the reality of the market… And let's not forget it's a new IP. Even though we say all 'Guardians [of the Galaxy] are known', it's still a new IP [in the video game market]. It could be a lot of people don't even know that the game is out yet, or they're not sure exactly what it is."