Nearly 60 games are reportedly leaving PS Now before the new PS Plus replaces it
Metal Gear Solid, Sonic and Yakuza games are among those said to be set for removal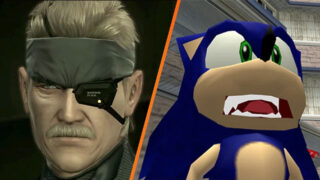 Nearly 60 games are set to leave the PlayStation Now service next month, before it becomes part of Sony's revamped PlayStation Plus scheme.
PS Now, which is a subscription service that gives players access to a variety of PS2, PS3 and PS4 games, will be closing down in the summer and replaced with the new tiered PS Plus system, which incorporates the features of PS Now in its higher tiers.
However, Reddit user Cobra_Bite has noted that a number of games currently available on PlayStation Now either currently show expiry dates in May, or are sporadically showing them on and off.
This implies that, unless they're renewed, at least 56 games currently on PS Now will not be available on the revamped PS Plus.
The full list can be found on Reddit, but notable titles include a large number of Sega games, as well as some Metal Gear Solid titles.
Highlights from the list include:
Akiba's Beat and Akiba's Trip
Castlevania: Lord of Shadow
Metal Gear Rising
Metal Gear Solid 4
Metal Gear Solid V and Ground Zeroes
Silent Hill HD Collection
Sonic Forces
Sonic Generations
Sonic Mania
Sonic Unleashed
Valkyria Chronicles Remastered
Virtua Fighter V
Yakuza 4 and 5
Should these games not be present on the new PS Plus scheme, Sonic fans may be the most affected. There are a total of 11 Sonic games on the list, including every major series release since 2008's Sonic Unleashed.
The newly announced PlayStation Plus refresh will see three new tiers introduced this summer.
PS Plus Essentials offers the same benefits as the current PS Plus service, with monthly free games, discounts and online multiplayer. It will also cost the same: $9.99/€8.99/£6.99 a month, $24.99/€24.99/£19.99 for three months, or $59.99/€59.99/£49.99 a year.
Meanwhile, PS Plus Extra will include the same benefits but with access to a library of 400 downloadable PS4 and PS5 games. These games will include Death Stranding, God of War, Marvel's Spider-Man, Marvel's Spider-Man: Miles Morales, Mortal Kombat 11, Returnal and more.
Finally, PS Plus Premium includes the above benefits but adds up to 340 additional games including PS3 titles available via cloud streaming, and a catalogue of classic games available in both streaming and download options from the original PlayStation, PS2 and PSP generations.