Xbox and UK's Environment Agency have launched Minecraft mode 'Rivercraft'
The mode is designed to teach students about climate change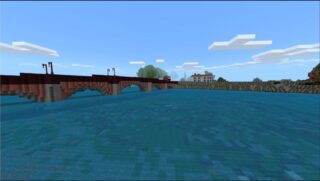 Xbox, Minecraft and the UK's Environment Agency have jointly announced Rivercraft, a new mode in Minecraft: Education Edition that seeks to teach children about climate change.
Minecraft: Education Edition is a virtual learning experience based on the ultra-popular sandbox game.
'Rivercraft', which launches today (April 5), is described as an "immersive virtual learning experience" based on the Environment Agency's £54.7M flood defence scheme in UK's Preston and South Ribble. This will reduce flood risk to 4,700 homes when complete.
According to Microsoft, the in-game Preston world is the first virtual learning activity of its kind that uses Artificial Intelligence to map a region and convert it into an interactive Minecraft map.
The game tasks students with establishing flood defences in the virtual town, including natural flood management, walls and embankments, as well as flood storage areas and flood gates.
The experience will teach "the pros and cons of each approach and their suitability within local communities," according to Microsoft.
Microsoft plans to make the mode available globally and in multiple languages to be used in educational and home environments.
"We know that people around the world love Minecraft, and so it is really rewarding for us to see Minecraft encouraging students to talk about and engage with environmental issues," said Justin Edwards, Director of Learning Programmes, Minecraft.
He added: "The game provides an opportunity not just to get to know the flooding scheme in Ribble, but also understand real-world impact in a safe and fun way. The game also shows how communities are impacted, not just individuals. We're committed to making a better world through the power of play and this project is at the forefront of that vision."