Xbox will bring Game Pass streaming to TVs 'in the next year', it's claimed
Microsoft is reportedly planning to launch a Samsung app and streaming puck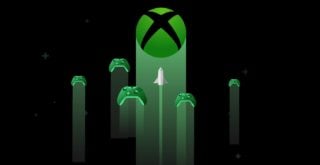 Microsoft will finally bring Xbox Game Pass streaming directly to TVs and standalone devices in the next year, it's claimed.
That's according to a new report by GamesBeat, which claims that, within the next 12 months, Microsoft plans to release an Xbox streaming device similar to an Amazon Fire Stick or a Roku-like puck.
In addition, Microsoft is planning a Samsung TV App which will allow users to stream cloud games direct to their televisions without any additional device, it's claimed.
The launches are said to be part of the new "Xbox Everywhere" initiative, which this week saw its first free-to-play title in Fortnite.
Fortnite - Xbox Cloud Gaming trailer
Microsoft first confirmed plans to bring Xbox cloud gaming to internet-connected TVs last summer. Speaking in June 2021, the company said it was working with global TV manufacturers to embed the Xbox experience directly into internet-connected TVs, and building its own streaming devices.
"Cloud is key to our hardware and Game Pass roadmaps, but no one should think we're slowing down on our core console engineering. In fact, we're accelerating it," Xbox's experiences and platforms boss Liz Hamren said during a video presentation.
"We're already hard at work on new hardware and platforms, some of which won't come to light for years. But even as we build for the future, we're focused on extending the Xbox experience to more devices today so we can reach more people.
"And many of those devices won't be built by us. For example, we're working with global TV manufacturers to embed the Game Pass experience directly into internet-connected TVs, so all you'll need to play is a controller.
"Beyond that, we're also developing standalone streaming devices that you can plug into a TV or monitor, so if you have a strong internet connection, you can stream your Xbox experience."
In the same presentation, Microsoft stated that it was exploring introducing new Xbox Game Pass subscription plans to bring the service to a wider audience.
Microsoft partnered with Samsung to bring Xbox cloud gaming to the electronics company's products in 2020, and Spencer has previously hinted at plans to bundle Xbox Game Pass with TV streaming sticks.