Final Fantasy XIV shines as Square Enix's full-year profit jumps 90%
But sales of 'HD' titles like Outriders and Guardians of the Galaxy declined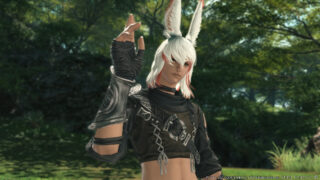 Final Fantasy XIV was the star performer during Square Enix's fiscal year ended March 31, 2022, the company announced on Friday.
The Japanese publisher's games business posted sales of 279.6 billion yen ($2.2 billion) and operating income of 58.9 billion yen ($457 million), which were up year-over-year by 6% and 17% respectively.
Group sales rose 9.8% to 365.2 billion yen ($2.8 billion), operating income increased 25.5% to 59.2 billion yen ($459 million), and profit was up 90% to 51 billion yen ($396 million).
In its games business, Square Enix said sales and operating income were up compared to the previous year thanks to "a major contribution" from Final Fantasy XIV's Endwalker expansion, which launched in December.
FINAL FANTASY XIV: ENDWALKER Launch Trailer
The MMO sub-segment of its games business also saw "a sharp rise in the number of monthly paying subscribers" for Final Fantasy XIV.
This helped to offset a decline in Square's HD Game sub-segment, which included new releases like Outriders, Marvel's Guardians of the Galaxy and Nier Replicant ver.1.22474487139. Sales of these titles failed to match those achieved in the previous fiscal year by the likes of Final Fantasy 7 Remake and Marvel's Avengers.
Square Enix sold a total of 39.13 million games (both HD and MMO titles) during the period, down from 49.9 million units the previous fiscal year.
Digital accounted for 78% of total game unit sales, and 90% of the revenue generated from game sales during the 12-month period.
Outriders studio People Can Fly recently has told investors there's no guarantee it will ever receive any royalties for the game, which failed to break even in 2021 following its release last April.
Swedish company Embracer announced earlier this month that it had agreed to acquire a large part of Square Enix's western development arm for $300 million.
The deal will see Embracer acquire Crystal Dynamics, Eidos Montreal, Square Enix Montreal and a catalogue of IPs including Tomb Raider, Deus Ex, Thief and Legacy of Kain.
Square Enix said the deal would enable it to focus on investments in blockchain, AI and the cloud.