Marvel's Avengers' next playable hero will be Jane Foster's Mighty Thor
She'll be added to the game with update 2.5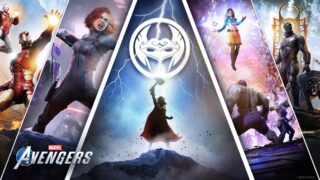 Crystal Dynamics has announced that Marvel's Avengers' next playable hero will be Jane Foster: The Mighty Thor.
Following on from November's PlayStation exclusive Spider-Man, Jane Foster will be available for all platforms when she arrives in the game's 2.5 update.
Crystal Dynamics said: "Our Hero designs are driven first and foremost by their core comic book identities, so, as a fellow wielder of Mjolnir, her suite of abilities will have a lot in common with the Odinson's, however she will also have elements that are distinctly Jane."
Marvel's Avengers - Spider-Man With Great Power Cinematic Trailer
While release timing for the 2.5 update is yet to be confirmed, Crystal Dynamics is "currently targeting" a May release for the game's 2.4 update.
The 2.4 patch is being designed with the goal of making events like Cosmic Threat, Tachyon Anomaly and Corrupted Vibranium more rewarding and compelling.
Following the update, each event will reward gear from different sets, while unit rewards are being added to a wider variety of event missions.
Higher power level gear rewards will be added to meta objectives, and these objectives will also grant rewards to the entire eligible roster rather than just a single hero.
"Combined with the improved game loop introduced in 2.3, we think these new rewards will make a meaningful change of pace for veteran players, and a great way to gear up for newer players," Crystal Dynamics said.
It was announced last September that Xbox had signed Crystal Dynamics to co-develop Perfect Dark, which is the debut title from its new in-house studio The Initiative.
VGC reported in March that The Initiative had seen a "fast and furious" wave of senior departures over the previous year, leading to an increased role on Perfect Dark for Crystal Dynamics.
The Square Enix studio announced this month that the next Tomb Raider game had just entered development using Unreal Engine 5.