Indie devs have created a huge 1000-piece bundle to raise money for Ukraine
Kingdom Two Crowns, Skatebird and Cloud Gardens are among the games included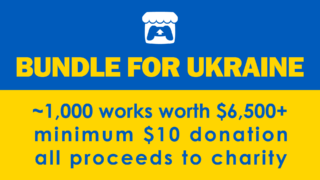 Indie developers from all over the world have contributed games to a large bundle designed to raise money for Ukrainian charities.
The Bundle for Ukraine is available on itch.io and contains 991 items. Players who make a minimum donation of $10 will get everything, DRM-free.
Of the products included, around 600 are video games. There are also around 300 tabletop RPGs and a variety of books, zines, comics and soundtracks.
All proceeds will be split between two charities who aim to help the people of Ukraine during and after its invasion by Russia.
The money raised will go to International Medical Corps (which provides medical assistance in the region) and Voice of Children (a Ukrainian company that helps children cope with the horrors of war and PTSD).
Some of the more notable games in the bundle include:
Kingdom Two Crowns
Superhot
SkateBird
Wandersong
Baba is You
Jotun: Valhalla Edition
Minit
TowerFall Ascension
The bundle is the latest example of the video game industry taking a stance during Russia's invasion of Ukraine, be that through supporting Ukraine or cutting off ties with Russia.
The Pokémon Company International announced last week that it was donating $200,000 to provide humanitarian support to Ukraine, while Embracer Group, CD Projekt Red and Ubisoft have published messages of support for Ukraine, with Embracer and CDPR committing to donating toward aid efforts.
Last week Ukraine's Deputy Prime Minister also called on Xbox and PlayStation to temporarily end support in the Russian and Belarusian markets.
In an open letter published on Twitter, Mykhailo Fedorov called on the platform holders to "block all Russian and Belorussian accounts, temporarily stop the participation of Russian and Belorussian teams and gamers in all international esports events".
Microsoft responded by suspending all sales of products and services in Russia, while Sony pulled the Russian release of Gran Turismo 7.
EA also removed its games from sale in Russia and Belarus, shortly after announcing that it was removing Russian and Belarusian teams from its FIFA and NHL games.