The Epic Games Store spent $12 million securing free games in its first 9 months
Court docs reveal fees paid for Store giveaways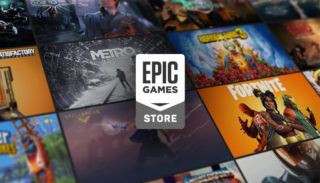 Epic Games spent nearly $12 million securing games for its regular free game giveaways during a nine-month period, according to a newly released document.
The document was released as part of the ongoing legal case between Epic and Apple and reveals how much money Epic spent acquiring free games between the launch of the Epic Games Store in December 2018 and the giveaway of Double Fine's game Everything in September 2019.
The information shows that Epic gave away 38 games during that nine-month period, each of which involved paying their developers a different 'buyout price'.
Games like Super Meat Boy, World of Goo and RIME cost Epic $50,000 or less, while three games cost more than a million dollars to secure – Subnautica ($1.4 million), Mutant Year Zero ($1 million) and the Batman Arkham Collection ($1.5 million).
Despite the fee paid to secure the Arkham Collection, it could be argued that Epic saw a good return on its investment. According to the figures, the game was downloaded nearly 6.5 million times, and 10% of these downloads were from new users who had signed up to the Epic Store for the first time.
The report calculates that this means Epic paid around $2.44 for each new user who signed up to the store to download the Arkham Collection.
Other deals were less beneficial to Epic. Celeste and Inside, two critically acclaimed indie titles, brought in fewer new users, costing Epic $12 and $11.12 per user respectively.
The Epic Games Store continues to give away free games on a regular basis. While this newly shared document only covers the first nine months the store was open, it does give some insight as to how much money Epic is spending to secure these free games in order to entice new users to the store.
In an analysis published on VGC in February, Ampere Analysis' Louise Shorthouse questioned whether Epic's game giveaways were sustainable in the long term.
"The number of free games increased by 41% [in 2020] – reflecting the increase in customers – but their value grew by over 65%," she wrote.
"Essentially, Epic is giving away more expensive games, probably in an attempt to sustain momentum and continue to draw in a broader audience, and it seems to be working. The number of free games claimed in 2020 increased almost threefold year-on-year, from 200 million to 749 million.
"But even for Epic Games, a company still basking in the glow of Fortnite's vast profits, there will be a limit to how much it is willing and able to spend on free content. "