The Suikoden successor tripled its crowdfunding goal in less than 24 hours
Eiyuden Chronicle reveals its stretch goals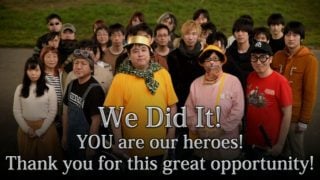 Eiyuden Chronicle, the spiritual successor to the Suikoden JRPG series, has tripled its Kickstarter goal in less than 24 hours of funding.
At the time of publishing, the role-playing game has raised some $1.5m / £1.2m and cleared stretch goals for console versions, new modes and a New Game Plus feature.
Eiyuden reached its initial goal of around $520,000 / £400,000 in just three hours, despite Kickstarter being briefly unavailable during the campaign's launch.
"Thank you so much to all our backers for the incredible outpour of support," developer Rabbit & Bear Studios wrote in an update. "This is far from the end, though. We've got a whole set of incredible stretch goals to make Eiyuden Chronicle even better, so be sure to check out the stretch goals on the campaign page!"
Currently, Eiyuden is tracking ahead of another high profile Japanese Kickstarter, ArtPlay's Bloodstained: Ritual of the Night, which took 24 hours to make around $1.2m when it ran its crowdfunding campaign in 2015. Bloodstained went on to raise $5.5m.
YSnet's Shenmue 3 made over $2 million in its first day, although the campaign's launch was backed by promotion at PlayStation's E3 press conference. Shenmue 3 raised over $6m.
The Eiyuden Chronicle crowdfunding campaign will run until August 28 and still has stretch goals for Chinese localisation, a Guild System and more.
Eiyuden Chronicle is described as "an ode to the classic JRPG genre from the PlayStation era" with classic JRPG exploration and battles in 2.5D graphics, pixel-based characters, a diverse cast of 100 unique heroes and a fortress building system.
Eiyuden Chronicle's story will be handled by Suikoden I and II writer Yoshitaka Murayama (Suikoden I, Suikoden II), with character design by Junko Kawano (Suikoden I, IV), system design and direction by Osamu Komuta (Suikoden Tierkreis, Suikoden Tactics), and art direction and production by Junichi Murakami (Castlevania: Aria of Sorrow, OZ).
The game's soundtrack will feature music by composers Michiko Naruke (Wild Arms series), Motoi Sakuraba (Tales series), among other artists.