Bloodstained: Curse of the Moon 2 will release next month
8-bit-themed sequel gets release date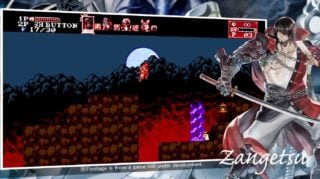 ArtPlay and Inti Creates' retro-themed Bloodstained: Curse of the Moon 2 will release next month, on July 10, the developers have announced.
The 8-bit-themed sequel is available to pre-purchase now on the Nintendo Switch eShop and for wishlist entry on Steam.
The first Curse of the Moon is a spin-off of 2019's Ritual of the Night, originally included as an additional funding goal in that game's Kickstarter campaign.
The sequel was introduced by producer Koji Igarashi during the New Game+ Expo broadcast last week. Igarashi claimed that Curse of the Moon's two developers had decided to create a sequel very quickly after the first game.
Curse of the Moon 2 will revive the multiple-scenario structure of the 2018 title, with a new story supervised by Igarashi.
Players take control of Zangetsu, a swordsman from the Far East who bears a deep grudge against demonkind and the alchemists who summoned them.
"Zangetsu must battle his way to the demonic stronghold, but he doesn't have to do it alone," Inti's description reads. "Zangetsu can ally himself with a brand new cast of characters he meets along the way and add them to the playable roster."
Curse of the Moon 2 is planned for Nintendo Switch, PlayStation 4, Xbox One and PC via Steam.
Bloodstained: Ritual of the Night's Igarashi has previously said he intends to create future games in the series. The action adventure game, which raised more than $5 million on Kickstarter, released in June 2019 to a favourable critical reception.