Nintendo says the transition to its next console is 'a major focus for us'
The company wants to alleviate the risk of resetting its userbase, says Furukawa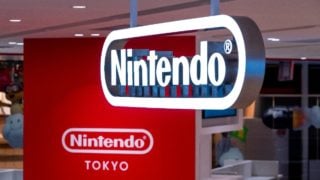 This story was updated on May 13 to change the word "concern" to "focus", which our translator feels is a more accurate translation.
Nintendo president Shuntaro Furukawa has said the company's eventual transition away from Nintendo Switch to its next hardware platform is "a major focus" for the company.
Speaking during a Japanese investor Q&A this week (translated by VGC contributor Robert Sephazon), Furukawa said the company planned to alleviate the risks of resetting its 100 million-plus userbase by building "long-term relationships" with its users, partly via Nintendo Accounts and by using its IP outside of gaming.
Furukawa was replying to a question about how Nintendo has been able to maintain a strong game release schedule six years into Switch's life cycle, and what his thoughts were on transitioning to its next hardware platform.
In its recent history, Nintendo followed up its big successes such as Wii (101.6m sold) and DS (154m sold) with significantly less popular successors (Wii U sold 13.5m and 3DS managed 75m), and Furukawa said the company was mindful of these experiences.
Nintendo Switch Online + Expansion Pack overview trailer
"We have already announced a portion of our software roadmap releasing up to next spring," he said. "Unlike the past, we continue to have a large variety of games scheduled to be released, even beyond five years of release. This is because the Nintendo Switch has had such a smooth launch, allowing us to focus all of our development resources on a single platform.
"However, the question of whether we will be able to just as smoothly transition from the Nintendo Switch to the next generation of hardware is a major focus for us. Based on our experiences with the Wii, Nintendo DS, and other hardware, it is very clear that one of the major obstacles is how to easily transition from one hardware to the next.
"To help alleviate this risk, we're focusing on building long-term relationships with our customers. While we will continue launching new software on the Nintendo Switch, we will also provide services that also use Nintendo Accounts and other IP outside of gaming software. We intend for this to help build a lasting impact with our customers."
---
UPDATE: Nintendo has released its own official translation:
"On the other hand, looking back on past experiences of generational change such as the change from the Wii and Nintendo DS eras, we recognize that one of our tasks is ensuring the transition to future generations of hardware is as smooth as possible. To that end, we are focusing on building long-term relationships with our consumers (through Nintendo Accounts).
"While continuing to release new Nintendo Switch software for consumers to enjoy, we aim to maintain relationships across hardware generations through services that utilize Nintendo Accounts and by providing opportunities for them to experience our IP through other non-gaming channels."
---
ORIGINAL STORY CONTINUES: Furukawa previously appeared to hint that some form of backwards compatibility could be utilised for its next game console, in order to "maintain and expand" Switch's audience of 100 million-plus users.
Speaking to investors in February, the president said of Nintendo's next-gen console plans: "There are currently nearly 100 million annual playing users, and going forward, it is important to consider how we can maintain and expand on that number. This will also be essential when we consider our plan for the next hardware platform."
On Tuesday, Nintendo announced Switch hardware sales of 23.06 million for its fiscal year ended March 2022, bringing lifetime sales to 107.6m. The figure brings the company closer to beating PS2's record (155m), but it still represents a 20% decline on the previous year when Switch sales peaked at 28.83 million units.
Officially, the company has said it believes Switch is still in the middle phase of its lifecycle and that it's seeking a sixth year of growth, aided by the new OLED model.
Nintendo stated last May that investment in Switch's successor had contributed to a record annual research and development spend at the company.
And during its financial results briefing in November, the company said it was still internally discussing the concept and launch timing for its next gaming system.
Furukawa also discussed Nintendo's approach to developing and launching new gaming hardware in a Nikkei interview (paywall) published last February.
"The hardware and software development teams are in the same building, communicating closely and thinking about how we can propose new forms of entertainment," he said.
"In order to create a single piece of hardware, we have to do a lot of preparation several years in advance, so we are working without stopping. In the end, the deciding factor in whether or not to commercialise a product is whether it can create a new experience."