Reggie Fils-Aimé says localising Mother 3 'didn't make business sense'
The 2006 GBA game has never been officially translated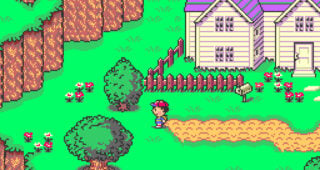 Former Nintendo President Reggie Fils-Aimé has said in a new interview that localising Mother 3 "just didn't make business sense".
Speaking to Bloomberg, the executive, who is currently doing a press tour to support his new book, said that when Mother 3 was released in Japan in 2006 for the Game Boy Advance, Nintendo was already transitioning to the Nintendo DS, and thus it wouldn't have made business sense to spend money on an older platform.
While it's claimed Nintendo did attempt to bring the game to other platforms following fan demand, the game has yet to receive an official translation.
Earthbound and Earthbound Beginnings - Switch trailer
During the interview, Bloomberg journalist Jason Schreier asked if the game was never brought overdue to risqué subject matter that Nintendo may have wanted to avoid.
"That is not at all the issue why Mother 3 in particular never made it to the West," Reggie claimed. "It was all based on the business needs and the business situation at the time."
In another recent interview, Fils-Aimé recommended players "don't hold (their) breath" for more Earthbound games. 
Mother – or Earthbound, as it's known in the West is a series of RPGs that most western players are familiar with due to the inclusion of characters from the games in the Super Smash Bros. series.
Mother was originally released on the Famicom in 1989 and tells the story of Ninten, a 12-year-old who uses psychic powers to fight inanimate objects.
Although the game was originally Japan-only, Nintendo gave it an official English language translation in 2015 and released it on the Wii U Virtual Console under the new name Earthbound Beginnings.
Only its sequel, Earthbound, was officially released in the west around the time of its Japanese debut.
The Earthbound series developed a cult following in the west, especially after its protagonist Ness was included as a playable fighter in Super Smash Bros. on the Nintendo 64 and all of its subsequent sequels.