'Stone Cold Steve Austin thinks Breath of the Wild is better than Ocarina of Time'
Jordan Middler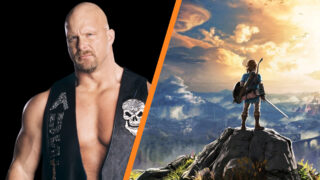 This is a blog post, where VGC writers post irreverent and (occasionally) entertaining coverage of video game culture.
WWE Hall of Fame wrestler Stone Cold Steve Austin thinks The Legend of Zelda: Breath of the Wild is better than The Legend of Zelda: Ocarina of Time.
In a video posted to Twitter from an upcoming episode of the Broken Skull Sessions on the WWE Network, Stone Cold and guest Cody Rhodes answer rapid-fire questions. When asked "Best Zelda game?", Cody, who is a huge fan of video games, responds "Ocarina of Time. Hands down."
To this, Stone Cold Steve Austin, who despite appearing in dozens of video games is not known to play them responds; "No dude, Breath of the Wild."
It's worth noting that in the entirely unscripted world of professional wrestling, this may just be a joke, but, if sincere, it paints a vivid picture of the multi-time world champion, and arguably the greatest professional wrestler of all time dealing with joy-con drift as he played through the Nintendo Switch launch title.
"The American Nightmare" Cody Rhodes recently made his return to WWE after co-founding and performing for rival promotion, AEW.
An AEW video game is currently in the works, rumoured to be titled AEW: Fight Forever, the game looks to recapture the feeling of Nintendo 64 and PlayStation wrestling games.
A report last month by wrestling website Fightful Select claimed that the AEW game may be released as soon as September.
The debut video game for the upstart rival to WWE is being developed by Yuke's, the Japanese studio previously responsible for the WWE Smackdown / WWE 2K series from 2000 to 2018.