'Don't hold your breath' for Mother 3 or more Earthbound, says Reggie Fils-Aimé
It's a "relatively small group of fans that desperately want to see Mother 3"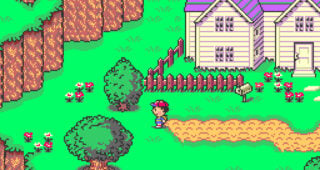 Former Nintendo of America president Reggie Fils-Aimé has cautioned fans not to expect further releases in the Earthbound series in the near future.
Mother – or Earthbound, as it's known in the West – saw its third instalment released on the Game Boy Advance in Japan over 15 years ago, but despite persistent requests from fan groups it has never received an official English release.
The Earthbound series received renewed attention in February after Nintendo announced that both Earthbound and its predecessor Earthbound Beginnings (aka Mother) would be added to Switch Online's SNES and NES apps.
During a new interview with Kinda Funny Games, Fils-Aimé touched on the series while discussing what he'd like to see from Nintendo in the future.
Earthbound and Earthbound Beginnings - Switch trailer
In addition to The Legend of Zelda Breath of the Wild 2 and Metroid Prime 4, he said: "I want to see other older franchises with a new look. I'd love to see something with Kid Icarus and a new direction there."
Fils-Aimé was then asked if he'd like to see more Earthbound. "Don't hold your breath," he responded. "Again, I'm not there [anymore], I don't know what's going on."
However, he added: "While [former Nintendo CEO] Mr Iwata was alive, he really understood the passion that fans had for the Mother series. And you need to remember that it was under his watch that Earthbound Beginnings was first brought on to the Virtual Console platform.
"And so, the company knows that there's a lot of passion for that franchise, but thinking about how to make it current, thinking about how to make it bigger than just the, you know, let me call it the relatively small group of fans that desperately want to see Mother 3 or something next in the Earthbound series.
"That's what the company I'm sure has been thinking about and they just haven't figured out yet the solution to that, or at least they haven't been prepared to talk about it."
Mother was originally released on the Famicom in 1989 and tells the story of Ninten, a 12-year-old who uses psychic powers to fight inanimate objects.
Although the game was originally Japan-only, Nintendo gave it an official English language translation in 2015 and released it on the Wii U Virtual Console under the new name Earthbound Beginnings.
Only its sequel, Earthbound, was officially released in the west around the time of its Japanese debut.
The Earthbound series developed a cult following in the west, especially after its protagonist Ness was included as a playable fighter in Super Smash Bros. on the Nintendo 64 and all of its subsequent sequels.
Writing in a new book released today, Fils-Aimé claimed Nintendo of America was 'forced' to launch Game Boy Micro in 2005 due to a lack of alignment between different parts of the business.