On its 6th anniversary, Star Fox's artist calls on Zero to be ported to Switch
Takaya Imamura also wants to create another animated short movie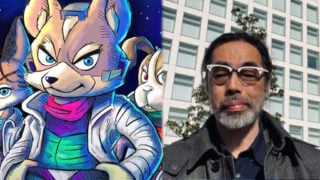 The original artist behind Star Fox has called on Nintendo to port the game's Wii U instalment to Nintendo Switch.
Takaya Imamura, who is the artist behind many classic Nintendo series including Starfox and F-Zero, left the company last year.
Imamura is credited as having designed the Starfox characters Fox McCloud, Falco Lombardi and more, as well as Captain Falcon from F-Zero and the cast of Majora's Mask, including fan-favourite Tingle.
His last title was 2016's Star Fox Zero, which was created in collaboration with Bayonetta studio PlatinumGames.
Zero remains one of the few first-party Wii U games yet to be ported to Nintendo Switch. As one of the more divisive Nintendo releases of recent years, it could also benefit more than most from a remaster.
In a tweet published on Wednesday Imamura called on Nintendo to re-release the game.
"Dear Nintendo… Today, six years have passed since the release of Star Fox Zero. We know there are challenges to overcome, but please port the game to the Switch," he wrote.
The artist went on to commit to creating a sequel to Star Fox Zero's spin-off animated short movie, should Nintendo ask him to do so. "I would be in charge of the scenario and storyboard," he wrote. "I look forward to working with you."
Previously developer PlatinumGames said it was open to bringing Zero to Nintendo Switch. Speaking to VGC last year, Platinum's studio head Atsushi Inaba said that if Nintendo was keen, the developer would "definitely" be interested in considering a new version of Zero.
Asked if Platinum would be interested in a Switch port of Star Fox Zero, Inaba said: "It's unfortunate that people aren't able to play older games because they're locked out of the platform, so of course if possible we'd like to bring over any of those older titles to the newer platforms.
"It kind of depends on what's in the realm of actual possibility, but yes, if the chance came up it's definitely something we'd like to think about."
Most of the criticism of Zero was targeted at its complicated control scheme, which could be fixed for any potential Switch port. However, Inaba stressed that any theoretical design decisions would be led by Nintendo.
"The important thing to remember there is that because it's Nintendo's IP, the ideas are coming from Miyamoto-san himself," he said. "We have to respect what Miyamoto-san wants to do.
"Of course, at that time there was a lot of discussion between Platinum and Nintendo, but if the opportunity came up to bring Star Fox Zero to the Switch again it would be more of a question of what he would like to do in that opportunity, and of course we would respect that again."