A Mario Kart 64 HD texture pack is out now on PC
HD models, items and more are included in the mod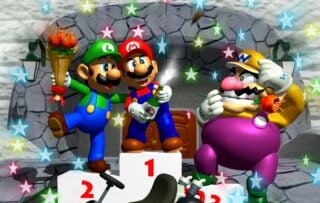 A fan-made Mario Kart 64 HD texture pack has been released on PC.
The pack, which was developed by fan group Mario Kart 64 HD, can be downloaded via the team's Discord server and replaces the original game's blocky models with smooth renders that are closer to those seen on the game's title screen.
The game's items, including the various shells and power-ups, have also been re-modelled and are included with this mod.
This is the latest in a series of fan-developed PC projects which look to improve some of Nintendo 64's best games.
VGC recently reported on The Legend of Zelda: Ocarina of Time port 'Ship of Harkinian' which now runs at 60fps, supports ultra-wide monitors as well as a large number of mods.
The PC port was made possible thanks to a two-year fan project which successfully reverse-engineered a version of Ocarina of Time into compilable C code.
A similar decompilation project led to a Super Mario 64 PC port in 2019. Mario 64's PC port was quickly modded with new graphics and modern effects such as ray-tracing, and it looks likely Ocarina will receive even more modding support.
This kind of reverse engineering is made legal because the fans involved did not use any leaked content, nor use any of Nintendo's original copyrighted assets. Players will have to provide their own version of the game ROM in order to play the port.
Speaking to VGC in January, Harbour Masters developer Kenix said that their group started work on its Ocarina of Time PC port virtually as soon as the game's code was fully reverse-engineered.
The port's name, Ship of Harkinian, is a reference to a line of dialogue in the infamous Zelda CDI spin-offs.