Nintendo says it will continue to expand Switch Online 'throughout this year'
Furukawa promises to 'expand services' and create new content for subscribers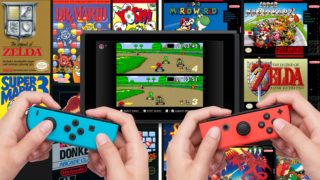 This story was updated on May 13 at 11:30 BST with Nintendo's official translation regarding Switch Online growth per-region.
A previous version of this story incorrectly stated that "most" NSO subscribers in the US had upgraded to the Expansion Pack tier, but this comment is not present in the official translation. VGC regrets the error.
Nintendo will continue to expand and create new content for its Switch Online subscription service "throughout this year," the company's president has said.
Speaking during a Japanese investor Q&A this week (translated by VGC contributor Robert Sephazon), Shuntaro Furukawa claimed that subscribers of its paid service had "gradually" increased since it last reported subscriber numbers of 32 million in September 2021.
Since that figure was published, Nintendo launched the pricier Expansion Pack tier, which includes a library of N64 and Mega Drive games, as well as access to DLC for Mario Kart 8 Deluxe, Splatoon 2 and Animal Crossing.
The standard Nintendo Switch Online subscription includes a selection of benefits as well as the ability to play Switch games online.
Asked about subscriber retention, and if Nintendo planned to add any additional content to the subscription service, Furukawa said he believed it was important to continue to add value to Switch Online.
Mario Kart 8 Deluxe - all Wave 1 Booster Course Pass tracks
"The total subscribers of Nintendo Switch Online has not been updated from the 32 million subscribers we disclosed last September, but it is gradually increasing as the sales of Nintendo Switches increases," he said.
"Of course, there are customers who allow their subscribership to expire, and then they don't renew, so we believe it is important to continue releasing software that allows players to continue enjoying, not only online play, but also enhances their overall experience.
"We will continue to expand our services and create new content for our customers throughout this year."
It's been heavily speculated that both Game Boy consoles could be next to join Nintendo Switch Online's classic games offering, with multiple sources claiming last year that Game Boy and Game Boy Color games were likely to be added "really soon".
During the financial call this week, Furukawa pointed to the new "Missions and Rewards" added to Switch Online in March as an example of how Nintendo has so far added value to the service, as well as the addition of the Mario Kart 8 Deluxe Booster Course Pass DLC for free.
"The number of subscribers to Nintendo Switch Online + Expansion Pack is gradually increasing, as is the number of subscribers to Nintendo Switch Online," he claimed.
"The number of Nintendo Switch Online + Expansion Pack members is steadily increasing, and its share among the overall Nintendo Switch Online subscriber-base is gradually expanding. By region, the ratio is especially high in the United States.
"When we first started Nintendo Switch Online + Expansion Pack, the majority of subscribers were those who migrated from the original Nintendo Switch Online membership plans. However, we began to
see an increase in new subscribers late last year, caused mainly by the introduction of popular Nintendo 64 titles and add-on content for Mario Kart 8 Deluxe and Animal Crossing: New
Horizons."
Regarding whether additional content, similar to the Mario Kart DLC, will be released through the Nintendo Switch Online + Expansion Pass, the exec said it "will depend on the user-friendliness of the overall experience and the compatibility of each piece of software. Each title will be distributed in a way that best fits its characteristics."