Reggie Fils-Aimé thinks Animal Crossing could make a good blockchain game
The former Nintendo boss says he's "a believer" in the technology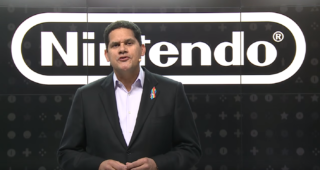 Former Nintendo of America president and COO Reggie Fils-Aimé has endorsed blockchain for gaming, stating that he's "a believer" in the technology.
A blockchain is a digital ledger of transactions that allows users to own and sell digital items as NFTs.
Numerous game companies have already started selling digital items as NFTs, including Konami and Atari, though this has attracted criticism from some due to the format's high carbon footprint and what many perceive to be cynical implementation.
Speaking during a SXSW panel this week, former Nintendo Boss Fils-Aimé said he believed blockchain could work in gaming if it's implemented from a player's perspective.
Fils-Aimé used Nintendo title Animal Crossing as an example, stating that he believed it could appeal to players if they were able to profit from some of their creations in the game.
"I'm a believer in blockchain," he said. "I think blockchain as a technology is really compelling. I'm also a believer in the concept of 'play to own' within video games.
"I say this as a player where I may have invested 50 hours into a game, 100 hours into a game, or there are some games where I've invested 300 hours… when I'm ready to move on to something else, wouldn't it be great to monetise what I built?
"I bet I'd have some takers here today if I wanted to sell my Animal Crossing island from the latest Nintendo Switch version. I'd like to be able to monetise that. Blockchain technology embedded in the code and into development would enable me to do that."
He added: "So I'm a believer in the technology and where it's headed. But I say that in the context of, it needs to make sense for the player, it can't just be an approach by the developer that it's interesting or a way for them to make more money.
"In the end, it's got to be good for the player, but I see an opportunity."
Nintendo said it 'has interest' in non-fungible tokens (NFTs) and 'The Metaverse' during an investor Q&A earlier this year, but suggested that it's yet to define what it could do in the areas that would sufficiently appeal to users.
Fils-Aimé joined Nintendo in December 2003 as the Executive Vice president of sales and marketing.
Months later, he became known as the public face for Nintendo of America, when he fronted its E3 2004 press conference, announcing GameCube titles Legend of Zelda: Twilight Princess and Metroid Prime 2.