A fan-made Metroid Prime remaster mod lets you play in 4K60 with new textures and lighting
But players will need their own copy of the game to play MPR Phaze 1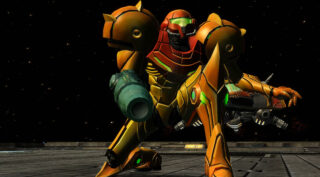 A newly-released fan-made Metroid Prime remaster mod adds support for 4K resolution and adds new textures and lighting.
Created by Samus Prime and Team MPR, the new mod, which is called MPR Phaze 1, requires players to provide a copy of either Metroid Prime on GameCube or Metroid Prime Trilogy on Wii.
The mod uses a custom version of the Dolphin Emulator and includes hand-made custom HD textures, material maps and a lighting overhaul.
The team claims that because the mod doesn't actually include any Nintendo-created assets – these are instead provided by the copy of the game supplied by the player – it's therefore legal since it falls under emulation.
According to Samus Prime, the mod's list of features includes:
"Jaw-dropping new visual pass, including all-new textures/lighting/particles and more"
"Restored features from the GameCube release, previously disabled on Wii"
"PrimeHack integration for native keyboard/mouse controls & dual-stick gamepad controls"
"Adjustable Field of View slider (included in PrimeHack)"
"UI customization, including coloring and adding/removing HUD elements"
Footage of the game shown by an early adopter of the mod shows significantly improved visuals compared to the SD GameCube and Wii versions of the game:
MPR Phaze 1 is the latest in a series of attempts by fans to provide HD remasters of standard-def games (some of which even already have official remasters).
In February, a Resident Evil 4 HD mod which had been in development for eight years was finally released, promising to make the game look even better than the actual HD version of the game released by Capcom.
The mod replaces almost every texture in the game with new high-resolution textures, and replaces a number of flat objects (such as lamps, candle holders and doors) with new 3D models.
Reports that Nintendo has been making an HD remaster of Metroid Prime have been around for some time now, but Nintendo has yet to officially confirm its presence.
Industry insider Emily Rogers, who has a long track record of accurate Nintendo information, stated on Twitter in November that it was her belief that the game is ready to go.
Rogers stated in September that Nintendo was working on a re-release of Metroid Prime for Switch, separate from any potential Trilogy plans, which VGC had heard separately from our own sources.
"Last I heard, Nintendo was busy working on Metroid Prime 1 to celebrate the game's 20th anniversary in 2022," she tweeted at the time. "I'm not sure if we're getting a 'trilogy' or just a re-release of the first game. I'm leaning toward the latter, but I hope we get the former."
Rogers' claims were then backed up by VentureBeat reporter Jeff Grubb, who said he was aware of similar information.