Nintendo sold almost 35 million Pokémon games in the last year
Brilliant Diamond and Shining Pearl are off to an extremely strong start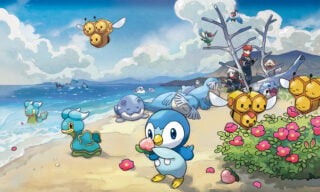 Nintendo has revealed that it sold almost 35 million Pokémon games in the last financial year.
Pokémon Brilliant Diamond and Pokémon Shining Pearl, remakes of the 2007 Nintendo DS titles, sold 14.65 million units from their release in November to the end of March 2022.
Pokémon Legends: Arceus, a new entry in the franchise which saw the series transition into a fully 3D RPG, sold 12.64 million units since its release in January until the end of March.
Pokémon Sword, and Pokémon Shield, the first core entries in the franchise on Nintendo Switch released in 2019, sold 3.18 million copies during the latest FY, pushing its life-to-date sales to 24.27 million.
Pokémon Scarlet & Violet - announce trailer
2018's Pokémon Let's Go Pikachu and Pokémon Let's Go Eevee, remakes of the Game Boy Colour's Pokémon Yellow, sold 1.25 million copies, bringing their life to date to 14.53.
New Pokémon Snap, which was released in April 2021, sold 2.40 million copies in its first year, bringing the total number for the franchise to 34.12 million copies sold in the last year. 
Pokémon Brilliant Diamond and Pokémon Shining Pearl have already outsold Pokémon Let's Go Pikachu & Eevee, despite the former only releasing late last year, and the latter releasing in 2018.
The next Pokémon adventures, titled Pokémon Scarlet and Violet are set to release later this year. Several classic Pokémon were shown off in the game's debut trailer, as well as three new starter Pokémon.
The starters are a grass-type cat Pokémon called Sprigatito, a fire-type crocodile Pokémon called Fuecoco and a water-type duckling Pokémon called Quaxly.
Scarlet and Violet were the only new Pokémon games announced as part of the most recent Pokémon Presents live stream.
The second Detective Pikachu game is still in development, according to a new recruitment advertisement for its developer Creatures Inc.