Modder brings concept GameCube portable to life
The portable is based off of a popular fan render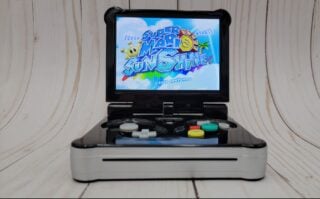 A fully functional portable Game Cube has been built by a prominent console modder.
As posted to Twitter by @GingerOfMods, the portable GameCube, which the modder says is inspired by "that fake GameCube portable that has floated around the internet for 15 years" can play the entirety of the GameCube's library.
This is due to the fact that it's built out of a Nintendo Wii, which, thanks to its backwards compatibility with the system's entire library, makes it the perfect basis for a portable GameCube.
In a lengthy video posted to his YouTube channel, GingerOfOz, who has previously created a portable Nintendo Wii the size of a GameBoy, explained in detail his motivation for this build.
"When I first saw this portable GameCube mockup years and years ago, my immediate thought was 'I need this', of course, that was a difficult thing to grapple with because this thing is very fake… I think that's lame."
As part of this video, GingerOfOz decided to track down the original creator of the image in order to ask about its creation, although this search proved to be difficult due to the lack of accurate sourcing in the early 2000s internet.
However, after some digging, the original image was tracked to a designer named Demond, who originally made the mockup "just for fun". Since then, the designer has worked at Ubisoft, Epic Games and Squanch Games.
When explaining why he decided to use a Wii motherboard instead of a GameCube one, Ginger explains that the GameCube motherboard uses more power than the Wii, and is also more difficult to cut down to size. Modding the Wii motherboard is also incredibly simple, whereas the GameCube requires more expensive equipment.
While the original image prominently features a GameCube disc entering the system, this portable version doesn't feature a working disc drive as it would have made the system significantly larger, however, Ginger does include a slot for a disc to be entered, even if they don't actually do anything in relation to playing the games.