Star Wars: The Force Unleashed Wii port coming to Nintendo Switch
The game will feature both button and motion controls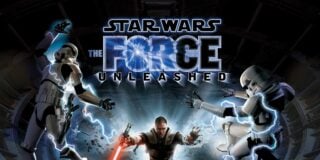 A port of the Nintendo Wii release of Star Wars: The Force Unleashed is coming to Nintendo Switch.
Revealed as part of Nintendo Direct, the game will feature both button and motion controls. The game releases on April 20, 2022.
The game will feature a local multiplayer duel mode. Players can choose from 27 playable characters and battle against a friend. Each player can use a single joy-con to emulate the swinging of a lightsaber.
Set following STAR WARS: Revenge of the Sith the game, which was once Star Wars canon until the property was purchased by Disney, sees you play as Starkiller, Darth Vader's apprentice. You're trained to hunt and destroy the remaining Jedi, and in doing so face off against familiar faces from the prequel era.
EA recently announced three new Star Wars projects from Respawn Entertainment, including a sequel to Jedi Fallen Order.
As well as the sequel, a Star Wars first-person shooter game is being helmed by former LucasArts veteran and Medal of Honor co-creator Peter Hirschmann, who has previously worked on the original Battlefront games, The Force Unleashed and more.
Respawn's third Star Wars project is a strategy game developed through a production collaboration with Bit Reactor, which is a new studio formed by veterans of XCOM and Civilization studio Firaxis Games.
Quantic Dream, the independent developer behind narrative games Detroit and Heavy Rain, also recently announced Star Wars Eclipse, which is reportedly inspired The Last of Us.