Game Freak co-founder Junichi Masuda has left to join The Pokémon Company
Masuda directed a number of Pokémon games and will now "develop new services and products"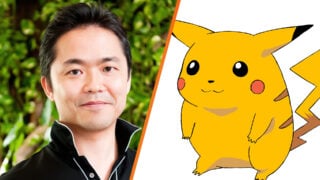 Game Freak co-founder Junichi Masuda has left the developer for a new role at The Pokémon Company.
Masuda, who was managing director at Game Freak, left the studio on May 31 and becomes the chief creative fellow at The Pokémon Company as of today.
As one of the three co-founders of Game Freak, Masuda has been involved in the development of nearly every game the studio has developed since its inception in April 1989.
Masuda has played a notable role in the development of the Pokémon series, initially serving as composer and helping with programming on the original Pokémon Red, Green and Blue before taking on more senior development roles in later titles.
Pokémon Legends: Arceus - the VGC review
In particular, Masuda was the director of Pokémon Ruby & Sapphire, FireRed & LeafGreen, Diamond & Pearl, Black & White, X & Y and Let's Go Pikachu & Eevee.
In leaving Game Freak, Masuda will presumably no longer be hands-on with development of future Pokémon games, and will instead oversee the production of Pokémon products in general in his new role at The Pokémon Company.
According to The Pokémon Company, Masuda "will utilise his deep understanding of the Pokémon brand to develop new services and products […] tapping into his years of experience and creative thinking".
In a statement, Masuda said: "I would like to express my heart-felt thanks to all Pokémon fans.
"Going forward, I hope to transcend the boundaries of video games by trying to offer greater surprises, fun and excitement to people all over the world, while doing my utmost to connect people, expand the circle of 'play' and to help bring about a richer world for us to share. I appreciate your continued support in my new role."
Earlier this week an industry consultant noted that The Pokémon Company has enjoyed a "record" financial year, with a net profit up 123% year-on-year, due to the releases of New Pokémon Snap, Pokémon Brilliant Diamond and Shining Pearl and Pokémon Legends: Arceus.