Sonic Frontiers has been officially announced for holiday 2022
The next Sonic adventure has been confirmed with a new trailer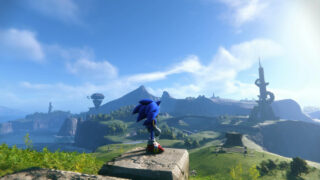 Sega has officially confirmed that the new Sonic game will be called Sonic Frontiers.
The game will be released in holiday 2022 on Xbox Series X/S, Xbox One, PS5, PS4, Switch and PC.
As well as the official game reveal, Sega revealed a new trailer showing off a new cinematic.
The trailer shows the scale of the game's world, and can be seen in the embed below:
Sonic Frontiers - The Game Awards 2021 Trailer
"An experience like never before, accelerate to new heights and experience the thrill of high velocity open-zone freedom," reads the game's official blurb.
"Battle powerful enemies as you speed through the Starfall Islands – landscapes brimming with dense forests, overflowing waterfalls, sizzling deserts and more.
"This holiday 2022, journey into new realms in Sonic Frontiers."
The Japanese trademark for Sonic Frontiers was filed in October, leading to speculation that it would be the title of the next game.
Sonic Team head Takashi Iizuka has said he'd like the game to have the same lasting impact as Sonic Adventure.
In a Sonic Stadium interview published in June 2021, the franchise's creative officer said he hoped the upcoming game would provide the building blocks for future Sonic titles for many years to come.
"Sonic Adventure laid the foundation for 20 years of Sonic titles after its release, so in the same way I really hope that this new title releasing in 2022 lays the foundation for the following future Sonic titles – that is the idea behind the challenge for the team", Iizuka said.
While not ready to detail the game, he added: "Since this title is still mid-development there is nothing I can speak to, but I did want to say that the development team has been spending their time to do something new and challenging.
"Through a lot of trial and error the team is looking to present to everyone a new Sonic game, and I hope your warm support of their work can motivate them to really deliver against that challenge."