Ray Liotta, the actor known in gaming as GTA Vice City's Tommy Vercetti, has died
The actor was known for his roles in Goodfellas, Marriage Story and more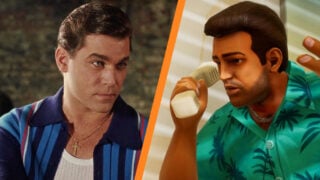 Ray Liotta, the actor whose career included roles in Goodfellas, Marriage Story and Grand Theft Auto: Vice City has died aged 67.
According to Deadline, the actor passed away in his sleep while filming a new project in the Dominican Republic.
Liotta was 67 years old. He is survived by his daughter Karsen and his fiance Jacy Nittolo.
An icon of American cinema, Liotta's breakout role came as Henry Hill in the Martin Scorsese classic Goodfellas, starring with Robert De Niro and Joe Pesci.
Grand Theft Auto the Trilogy - The Definitive Edition trailer
In video games, fans will fondly remember Liotta as the voice of Tommy Vercetti, the protagonist of Rockstar's seminal open-world game, Grand Theft Auto Vice City. He starred opposite Burt Reynolds, Dennis Hopper in what was one of the most star-studded video game casts in history.
For his performance as Tommy Vercetti, Liotta won a Spike Video Game Award for Best Performance.
Liotta also appeared in 2013's Call of Duty: Black Ops II, playing Billy Handsome in the game's zombies mode.