Ubisoft's Child of Light 2 unlikely to happen, says director
Planned prequel is 'not the type of game Ubisoft wants to make'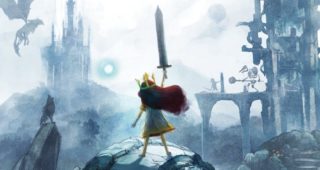 Additional reporting by Andy Robinson.
Ubisoft Montreal's critically acclaimed RPG Child of Light will unlikely receive a follow-up, its creative director has said, despite a new game being teased on social media last year.
Read our E3 2019 dates schedule for every conference and live stream date.
Speaking to VGC in a newly published Child of Light feature, the game's veteran creative director, Patrick Plourde (Assassin's Creed: Brotherhood, Far Cry 3) revealed the story synopsis for a Swan Lake-inspired prequel set in the same universe as the original — but said he doubts it will ever be released.
2014's Child of Light was an experimental digital game which signalled a significant departure for the company best known for its big-budget titles, such as Assassin's Creed and Watch Dogs.
The side-scrolling RPG follows the adventures of a young girl in a fantastical world. It was ported to Switch in 2018, when Plourde teased a possible sequel in a tweet showing the words "Child of Light II" on a piece of paper, a post which he now says he regrets.
Plourde told VGC that the "four or five page" document is actually a summary of a Child of Light prequel, which would focus on childhood friends growing apart as they become adults.
"I know the major beats, the location, and that it would feature multiple protagonists," he said. "It would have two protagonists going on different paths in life with different motivations, linked by their friendship."
The game would be partly inspired by the ballet Swan Lake, Plourde said, and its story would examine the nature of both love and friendship, as well as how people change as they grow up.
However, the creative director insisted that, to his knowledge, the game is not in production at Ubisoft, and he doubts it will be anytime soon.
The themes of friendship and detachment were partly inspired the fact that the group of developers responsible for the original game, who were made a core team after its release, have now mostly departed the company.
"I don't know if there's a Child of Light 2 that is in production, Ubisoft is big, but I'm not working on it," Plourde said. "Right now, I don't think there's a Child of Light 2 being produced… I'm not holding my breath."
Ubisoft announced in December that it planned to adapt Child of Light into a live-action TV show, and Plourde told VGC that, "if it happens, maybe then that could open a door for a sequel, because you'd want to capitalise".
"I don't know if there's a Child of Light 2 that is in production, Ubisoft is big, but I'm not working on it. Right now, I don't think there's a Child of Light 2 being produced… I'm not holding my breath."
However, he reiterated he was doubtful about the studio producing another Child of Light game, at least in the near future.
"I don't think it's the type of game that Ubisoft wants to make…The company is not an adolescent company, it is a mature company. And the other things, in terms of portfolio, it's still supported – we ported it on Switch and we're still selling a bunch of copies, but it's just that right now it's all about games as a service. We can make money out of it, but you can make more money elsewhere. That's the problem of not being independent while making this."
Ubisoft was unavailable for comment at the time of publication.
Operatic and more adult
The Child of Light project came about via an Ubisoft Montreal initiative it ran several years ago, which encouraged key creative staff to pitch new ideas between big, triple-A projects.
In the case of Child of Light, experienced director Plourde pitched the game following many years behind the wheel of huge franchises such as Far Cry, Assassin's Creed and Rainbow Six. Ubisoft Montpellier's Valiant Hearts and Far Cry 3: Blood Dragon started life under similar circumstances.
Child of Light was a real passion project for Plourde – he even managed a lot of the game's PR himself, including GDC talks and media tours – and so it's unsurprising to hear he's still passionate about the game.
Expanding on his ideas for a future prequel, Plourde told VGC that the game's visuals would be similar to the watercolour-inspired art of the original, but that gameplay would be "maybe a bit more operatic", and "slightly more adult".
Plourde said he would love to make the prequel one day, and that he still keeps tabs on what fans are saying about the original. "I'm still browsing Child of Light on Twitter. It's a refuge," he said.
"Sometimes Twitter is a cesspool, and there's aggressiveness there that I didn't know existed, but I type 'Child of Light' in and I'm still seeing a lot of beauty there and love from fans."