Sony confirms God of War, Horizon and Gran Turismo TV shows are in the works
Amazon and Netflix have each secured the rights to one of the productions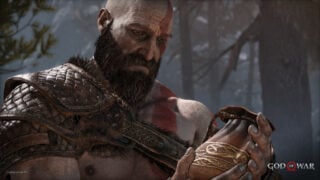 Sony has reportedly announced that TV series are in development for three more of PlayStation's biggest franchises.
During a business briefing on Thursday, Sony Pictures Entertainment confirmed that the company is currently working on TV adaptations of God of War, Horizon and Gran Turismo, according to Japan-based analyst and investment adviser David Gibson.
Amazon has secured the streaming rights to the God of War series, while Netflix has picked up Horizon.
UPDATE: It's been claimed that the Gran Turismo project is actually a movie adaptation rather than a TV one, and that Sony is eying District 9 director Neill Blomkamp to helm the film.
Uncharted - movie trailer
ORIGINAL STORY CONTINUES: Deadline first reported in March that Sony Pictures Television and PlayStation Productions were developing a live-action God of War TV series.
It said the iconic action-adventure franchise was being adapted for TV by The Expanse creators/executive producers Mark Fergus and Hawk Ostby and The Wheel of Time executive producer/showrunner Rafe Judkins.
It also claimed Amazon was in negotiations with Sony to secure the streaming rights for Prime Video.
PlayStation Productions is a studio formed in 2019 by Sony Interactive Entertainment to adapt its original game properties for film and television in partnership with Sony Pictures.
January's Uncharted movie starring Tom Holland, which had a $120 million budget, was the first major PlayStation Productions project to be released.
The studio is also working on a The Last of Us HBO TV series co-written by Chernobyl creator Mazin, a live-action Ghost of Tsushima movie helmed by John Wick director Chad Stahelski, a Twisted Metal TV series from Deadpool's writers, and a Jak and Daxter adaptation from Uncharted movie director Ruben Fleischer, among other projects.